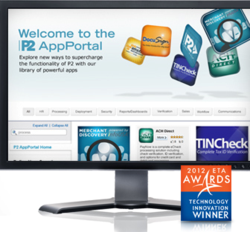 We wanted to create a single space for ISO's and industry partners to connect. If an ISO wants to ACH one of its merchants directly, they shouldn't have to look high and low for the solution.
Sacramento, CA (PRWEB) January 17, 2013
POS Portal, Inc. (POSPortal.com), the industry-leading provider of end-to-end management software for merchant acquiring, unveiled the P2 App Portal today. The P2 App Portal signifies POS Portal's ongoing commitment to bring innovative technology and industry partners together in one place. ISOs big and small will be able to leverage the power of the P2 Platform by adding additional applications that enhance business functions.
Within the P2 Platform, users can now easily integrate with third party service providers like Docusign, ACH Direct, and Amazon Web Services. In addition, customized solutions that leverage POS Portal's vast distribution network and equipment inventory are also available.
The P2 App Portal contains the industry's most innovative and best-of-breed solutions including applications for Hardware Deployment, Electronic Signature, ACH Services, Gift/Loyalty, Data Storage, Lead Generation, ID Verification, and PCI Compliance.
"We spent the last year talking to customers and learning from the industry," says Shobhit Kumar POS Portal's head of App Portal Partner Development. "We wanted to create a single space for ISOs and industry partners to connect. If an ISO wants to ACH one of its merchants directly, they shouldn't have to look high and low for the solution. The P2 platform is designed to expand; adding something like ACH capabilities should be easy. Now with our partner, ACH Direct, it is."
As a platform, P2 makes business work. Through a strategic partnership with Salesforce.com, POS Portal has been able to harness the most robust cloud-based platform available. Users can access their data anywhere, anytime. Now, they can easily use an application like TINCheck to verify TAX ID information at any point in the deal from their laptop, their Smartphone or their tablet.
Built specifically for merchant acquiring, P2 is tailor-made for the transactions industry. Application boarding, deployment integration, and residual payouts are only a few of the many features that make P2 absolutely indispensable for sales organizations targeting merchants.
Since its launch in March of 2011, P2 has undergone massive adoption industry-wide, with well over 120 ISOs using the platform and nearly 3,000 licensed users logging in every day. P2 is the most heavily used Merchant Acquiring CRM system on the market today. For partners, the App Portal represents the largest single source of end-users in the industry. For P2 users, the App Portal is the first, and last, place to look when adding new features and services to their organization.
To learn more about P2 and the App Portal, go to POSPortal.com. If you're interested in becoming a partner and having your app in the App Portal, please contact Shobhit Kumar 916-844-9427
About POS Portal - Since 2000, POS Portal has been able, through hard work, determination and perseverance, to boast a lengthy track record of truly remarkable success. First as a leading distributor of order entry and terminal modules, then over time, adding to that repertoire a role as the industry's leading innovator in customer service and merchant acquiring CRM. POS Portal is committed to continuing the relentless pursuit of our corporate core mission: To provide exceptional, unequaled customer service and innovation to the payments industry through mutually beneficial, long-lasting relationships. For more information, visit posportal.com.