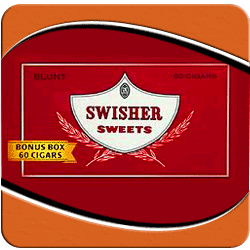 "Swisher keeps coming out with better tasting, more versatile products,"
Miami, FL (PRWEB) January 22, 2013
TrueTobacco.com, the tobacco-enthusiast's go-to shop for cigars and cigar accessories, announced today that it is expanding its stock of the popular Swisher Sweets Little Cigars to include many new flavors.
Swisher International, Inc – the makers of Swisher Sweets – is one of the largest and most successful tobacco manufacturers in the world , making up nearly one-third of the United State's cigar sales. Their immensely popular Swisher Sweets Little Cigars are by far the company's biggest sellers, offering cigar-lovers of every variety a mild and flavorful smoking experience - for a very reasonable price. The Swisher Sweets line has been expanded in recent years to include nearly a dozen flavors, from the fruity Grape and Blueberry blends to the bold Double Barrel Rum and Black varieties.
According to Nick Gordon, General Manager of TrueTobacco.com, Swisher Sweets have an extensive history of popularity among cigar smokers "Every machine made cigar smoker at some time or another has tried and loved a Swisher Sweet," says Gordon. "They've been available in every convenience store for as long as I can remember."
TrueTobacco.com plans to not only offer more flavors of Swisher Sweets, but also some of Swisher's other products like the wood-tips, the Swisher Outlaws, the XL Tube Cigars and the Perfecto Cigars.
"Swisher keeps coming out with better tasting, more versatile products," says Gordon. "We're trying to offer as many of those products as possible to our customers. I'm sure many of them haven't had a Swisher Sweet in years and would love to try their new stuff - or just light up a classic favorite cigarillo."
Gordon says that while Swishers might not be the most expensive cigar on the market, they didn't get where they are today by offering smokers a poor product. "They're more delicate tasting than your average machine made cigar," he says. TrueTobacco.com plans on adding even more flavors and sizes from the various lines of Swisher products in the future.
About the Product:
Swisher Sweets have been a leading brand of small-to-medium cigars in the United States for over 100 years. The company was formed in Chicago in 1861, but it was eventually relocated to Jacksonville, Florida to obtain better access to South American tobacco growers. The world-famous Swisher Sweets Little Cigars are some of the most popular cigars in the world, with Swisher International, Inc. owning the title of largest cigar exporter in the United States.
About the Company:
TrueTobacco.com is one of the Internet's largest and most-popular tobacco outlet stores. The company carries a vast assortment of products, ranging from cigars and cigarillos to pipe tobacco and filler. TrueTobacco.com also carries a wide variety of cigar accessories like humidors, ashtrays and cutters.