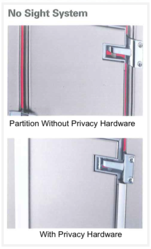 We are seeing an increased demand for panels that are almost ceiling to floor, along with privacy hardware, so there are no gaps between stalls
Nashville, Tennessee (PRWEB) January 23, 2013
Manning Materials, a nationwide distributor of bathroom partitions and accessories, is seeing higher demand for privacy in commercial restrooms, such as in airports and gyms. While public restrooms in Europe already feature almost floor to wall doors on restroom stalls, it's recently become more important to customers in the US.
In the past few years the company has seen a 50% increase in customers asking for privacy bathroom stalls specifications. Specifically, they are asking for higher bathroom stall doors and divider panels in addition to privacy hardware which eliminates any gaps.
"When designers and architects call us they are requesting that the normal bathroom door height be increased from 58 to 72 inches high. That's a full 14 inches higher than we used to see requests for," says Roy Manning, Owner of Manning Materials, Inc.
The standard restroom stall is typically 12 inches off the floor, from the floor to the bottom of the door, but the trend is to have stalls almost touch the ground. "Overall, we see an increased demand for panels that are almost ceiling to floor, along with privacy hardware, so there are no gaps between stalls. Having the bathroom partitions start 12 inches off the floor has been the norm for 30, 40, or 50 years now," says Manning, "so this is a big change."
In the next five years, Manning predicts a 30%-40% increase in demand in powdercoated metal and stainless steel partitions being converted to enhanced privacy partitions.
The demand for increased privacy likely started in Europe, says Manning. "The restrooms in Europe and their mounting are a little differently than ours. They also tend to be more private too -- almost floor to ceiling."
The increased privacy between commercial restroom stalls is especially popular in airports, offices and fitness clubs. Employees, such as those at a Nashville, Tennessee business, express how much they appreciate the effort to make public restrooms more private. "The privacy hardware for our bathroom partitions was a hit with all of our employees," said one satisfied customer.
Fitness clubs often use solid plastic or stainless stalls as shower stalls or bathroom stall dividers. This helps ensure people have privacy whether they're dressing/undressing or using the restroom. "You're totally totally exposed if you're coming out the shower and you're in a little cubicle area where you drying off and getting dressed. Some people just want to go in just to use the bathroom. So gyms are requesting privacy strips. They are also building larger and taller stalls to make sure their customers don't feel exposed."
The popular privacy features (taller restroom doors and privacy hardware) are available in almost every type of material the company sells, including metal, solid plastic or stainless steel toilet partitions.
Call to find out more about commercial restroom options or visit http://www.manningmaterialsinc.com
About Manning Materials
Manning Materials is located in Nashville, Tennessee, and has been in business for over 50 years. Established in 1957 by Roy Manning, Jr., the company started as a manufacturer's agent representing suppliers of architectural specialties for the construction industry.
Now expanded to include three generations of the Manning family, we have a full team of sales professionals and expert installers of bathroom toilet partitions and accessories.
Manning Materials has furnished materials for construction jobs from coast to coast, including HCA Hospitals, Vanderbilt University, Opryland Hotel, the Grand Ole Opry, Bridgestone Arena, and LP Field, Home of the Tennessee Titans NFL team.
We sell bathroom toilet partition materials and accessories as well as other commercial construction materials. Manning Materials wants to be the place you come back to for years to come. Because at Manning Materials, we know this business isn't just about building - it's about building business relationships.