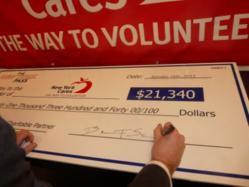 New York, NY (PRWEB) January 18, 2013
New York Pass, the city's leading money-saving attraction card, announced today a donation of $21,340 to its 2012 holiday charitable partner and the city's largest volunteer organization, New York Cares. As its charitable partner for the second straight holiday season, New York Pass donated $1 for every pass sold and another $1 for every Facebook post featuring a photo with an individual holding their pass in hand at an area attraction between Thanksgiving and New Years. New York Pass presented the check to New York Cares Wednesday afternoon at their lower Manhattan offices, and the donation represented a roughly 20 percent increase over the amount donated for last year's coat drive.
Given the devastating aftermath of Hurricane Sandy, there was an immediate need of over 50,000 coats for people in the city's hardest hit area, and the proceeds from New York Pass will help cover operational efforts for the coat drive. This year's drive collected over 100,000 coats over the holidays, a 25 percent increase over the 2011 holiday season.
"New York Cares plays such a critical role in allocating necessary resources to those who are in need and that need was tremendous this holiday season as scores of locals continue to struggle post-Sandy," said Brian Scullin, a New York Pass spokesman. "This was our way of giving back to a city and community that has given so much to us."
"We are thrilled to partner with New York Pass for a second year in a row," said Gary Bagley, Executive Director of New York Cares. "It's great to work with an organization so passionate about our city and keeping New Yorkers warm through our Coat Drive."
New York Cares' 54,000 volunteers are hard at work 365 days a year, teaching children the joy of reading, helping low-income students get into college, delivering job training to unemployed men and women, providing companionship to elderly nursing home residents, providing holiday gifts to families in need, serving meals to homeless and housebound people, donating coats and more. Last year, New York Cares volunteers helped 400,000 of their neighbors in need. To learn more, visit http://www.newyorkcares.org.
The New York Pass opens the doors to over 70 attractions that would normally cost over $1,000 to get into, which include classic sights such as the Empire State Building, Top of the Rock, The Metropolitan Museum of Art and more, along with skip-the-line privileges at certain locations and special discounts at select restaurants, retailers and Broadway shows. Two, three or seven day New York Passes are also available and each pass comes with a free 200 page guidebook that includes detailed maps, hours of operation, tips and directions to every New York Pass attraction featured. For more information and a complete list of attractions where the pass can be used, visit http://www.newyorkpass.com.
Media Contact:
Josh Knoller, (212) 938-0836, Josh(at)nicholaslence(dot)com
# # #