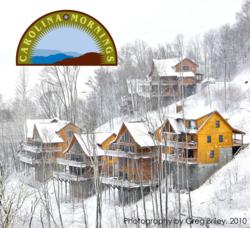 Best Trip Ever! - The Towns Family, Raleigh NC
Asheville, North Carolina (PRWEB) January 18, 2013
Carolina Mornings Now Manages The Scenic Wolf Resort on the slopes of a North Carolina Ski Resort. Service, Special Offers and Deluxe Rentals Are Featured Elements. When looking to stay at a at a North Carolina ski resort, Scenic Wolf Resort is the perfect destination.
Carolina Mornings, renowned for it's affordable cabin rentals in the Asheville, North Carolina area, has expanded its attention to detail to the Scenic Wolf Resort. These slope-side cabin rentals offer the perfect combination of ski adventure, unimaginable beauty, and deluxe accommodations with special offers.
Carolina Mornings believes that a ski vacation package should offer all the ingredients to cultivate a memorable, fun, and invigorating getaway. They've built a reputation of creating a complete experience for visitors to the Asheville, North Carolina Mountains, and Scenic Wolf Resort is no exception. These clean, well-kept North Carolina cabin rentals offer the atmosphere of a rustic experience along with the convenience of modern technology. In addition to warm fireplaces, engaging game rooms, full Internet access, and fully equipped kitchens, Carolina Mornings offers additional seasonal incentives such as free daily ski passes.
The resort also includes easy onsite access to the brand new Mountaintop Grill restaurant, located at Wolf Ridge Ski Resort's upper lodge. This feature gives guests the flexibility of dining inside their cabin or enjoying the casual atmosphere of a night out.
Each slope-side cabin offers incredible 70-mile views of the North Carolina Mountains, sleeps 6-12 people, and passes Carolina Mornings' rigorous standards for cleanliness and preparation for the each guest. Each cabin rental also includes a private hot tub, game room, gas fireplace, Cable TV, linens, as well as a fully equipped kitchen.
Carolina Mornings has been a trusted resource for cabin and vacation rentals for over 15 years. Their focus on the Asheville, North Carolina and surrounding areas offer guests the ability experience the Southern hospitality, scenic beauty, and special locations that can only be offered through intimate knowledge of the Western North Carolina area.
About Carolina Mornings: A leader of excellence in luxury-mountain living, Carolina Mornings has a much sought after selection of the finest vacation home rentals in the Asheville, NC area. Whether you choose to stay in a captivating Blue Ridge Mountain chalet, a Smoky Mountain log cabin, an elegant downtown loft or a luxury vacation villa located at the center of Historic Biltmore Village, you will be showered with free exclusive activities, personal attention, exceptional service and superior amenities. Our Asheville, NC vacation rental cabins offer spectacular mountain views, hot tubs, fireplaces, wireless Internet, pool tables and more. We are also proud to offer a wide selection of extended stay condos and pet friendly rentals. Carolina Mornings is truly your best choice for finding your luxurious Asheville cabin, cottage, condo or vacation home rental. Contact Carolina Mornings by visiting http://www.CarolinaMornings.com or calling (888) 661-5059.