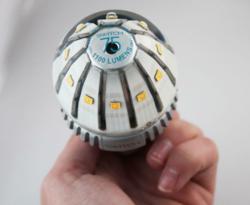 EarthLED offers one of the largest selections of LED lighting in the market, and we are thrilled to announce them as one of our first internet retail partners
Golden, CO & San Jose, CA (PRWEB) January 18, 2013
EarthLED is proud to announce that it has partnered with SWITCH Lighting™, the maker of the first true LED replacement for the incandescent light bulb, to offer its SWITCH LED light bulbs at the EarthLED Store website.
The SWITCH60, a 60 watt-equivalent A-type LED bulb, along with the SWITCH75, a 75 watt- equivalent is currently available for purchase in both clear and frosted versions. The SWITCH40 is available in a frosted version. The SWITCH100, 100 watt-equivalent LED bulbs, will be available in early 2013.
"EarthLED offers one of the largest selections of LED lighting in the market, and we are thrilled to announce them as one of our first internet retail partners," said Tracy Bilbrough, CEO of SWITCH. "SWITCH bulbs are ideal for consumers looking to outfit their home with beautiful, energy-saving bulbs; but they also have wide uses in the commercial markets as well - whether it's a restaurant, hotel, or apartment building. We're pleased to bring our products to all types of EarthLED customers."
SWITCH LED bulbs provide the same warm, familiar glow of an incandescent light bulb while using up to 80% less energy. They fit into standard light sockets, are dimmable, and can be used in the same manner as any incandescent or compact fluorescent light bulb - in any orientation, any fixture and any location. SWITCH bulbs pose no environmental hazards and have no toxic ingredients (unlike the mercury found in CFLs). The company's proprietary LQD Cooling System™ offers the best thermal management in the industry, using an innovative blend of proprietary technologies - a coolant made of liquid-silicone and a patented, highly reliable, and efficient driver - and overall electronic design.
SWITCH's bulbs also last up to 25 times longer than an incandescent light bulb - up to 25,000 hours - and the SWITCH60, for example, saves consumers approximately $130 on an energy bill over the light bulb's lifetime.
SWITCH has been widely praised for their sleek industrial design and has even been featured as a work of art in several art galleries. In addition, SWITCH has earned two prestigious awards; including a 2013 Consumer Electronics Show "Best Of" Innovations, and a silver rating in the 2012 Edison Awards in the Smart Systems category.
"We've been following SWITCH since they went public with their technology with great interest. The SWITCH product really represents a leap both in technology and overall aesthetic for LED light bulbs," said Mark Costigliola, Managing Director of Advanced Lumonics, parent company of EarthLED. "Our primary focus is to always bring to our customers the best LED lighting at the best price, so SWITCH bulbs are perfectly suited to this purpose," said Costigliola.\
"We aim to make it easy for both consumers and businesses alike to purchase SWITCH LED light bulbs and we are more than excited to work with SWITCH to launch their future product additions such as 100 watt equivalents and 3-Way LED Bulbs," said Costigliola.
About EarthLED
EarthLED, a new member of the Inc. 500 is headquartered in beautiful Golden, Colorado. Established in 2007, EarthLED, provides lighting products to both consumers and commercial customers alike. During the past 5 years companies such as Unilever, Ford Motor Company, IBM, Microsoft and BP have solved their lighting challenges and saved money by converting to LED lighting provided by EarthLED. EarthLED continues to redefine the LED buying experience online via its Store.EarthLED.com site by offering the best LED lighting from the best brands at the best price. For the latest information about EarthLED, please visit The EarthLED Store at http://store.EarthLED.com. Follow EarthLED on Twitter at: http://www.twitter.com/earthled or like them on Facebook at: http://www.facebook.com/earthled.
About SWITCH Lighting
SWITCH LightingTM is dedicated to innovative design and technologies that create cost-effective, long-lasting, energy-efficient LED lighting solutions for consumers and businesses. SWITCH Lighting is backed by VantagePoint Capital Partners and advised by Cradle to Cradle® writer and sustainability expert Bill McDonough. The company is privately held (incorporated as Switch Bulb Company, Inc.) and headquartered in San Jose, California. For the latest information about SWITCH Lighting and SWITCH products, please visit http://www.switchlightingco.com. Follow SWITCH on Twitter at: http://www.twitter.com/switchlightbulb or like them on Facebook at: http://www.facebook.com/switchlightbulbs.
Media Contacts:
Trafton Kenney for SWITCH
Trafton(dot)Kenney(at)graylingcp(dot)com
415-442-4027