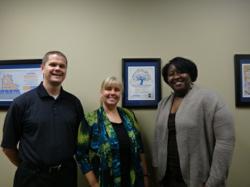 I look forward to expanding my role within the AtHomeNet team and working with our staff to help the company reach its goals in 2013 - Tasha Beard, Chief Operating Officer
Duluth, GA (PRWEB) January 21, 2013
AtHomeNet, Inc., a provider of web-based services for community associations and association management firms, is pleased to announce that Tasha Beard will now serve as the Chief Operating Officer.
Beard has been part of the AtHomeNet team for 11 years, working with the technical support and production teams to ensure quality service for AtHomeNet's clients. In her new role, she will take on the responsibility of day-to-day operations within the company and take an active role in streamlining processes to promote efficiency and new client relationships as AtHomeNet continues to serve its clients.
"I am excited about this new opportunity," says Beard. "I look forward to expanding my role within the AtHomeNet team and working with our staff to help the company reach its goals in 2013."
"Tasha has been a valuable part of our staff for many years," says Susan Sanders, CEO. "We are excited to utilize her many talents as we take on new challenges and developments."
Beard will work with the senior management staff to develop corporate and operational strategies and will facilitate these efforts across all company operations. She will continue to oversee all client services in addition to quality assurance and product development.
About AtHomeNet, Inc.
AtHomeNet® is the nation's premier provider of customized, affordable websites for communities and professional association management firms. The company was founded in 1998 by Jeff and Susan Sanders. With their HOA websites now being used in over 2 million homes in 8 countries, AtHomeNet continues to grow as a company and enhance their services in the ever expanding world of online technology. For more information on AtHomeNet please visit http://www.AtHomeNet.com or contact Marketing(at)AtHomeNet(dot)com or call 1-800-556-7852.