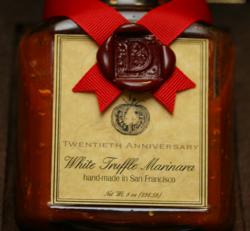 ...a fun and fitting next step in our mission of developing innovative premium products.
SAN FRANCISCO, CA (PRWEB) January 18, 2013
Dave's Gourmet is unveiling the World's Most Expensive Pasta Sauce on Sunday, January 20, at the 2013 NASFT Winter Fancy Food Show. This sauce will commemorate Dave's 20th Anniversary. The $1000 per jar White Truffle Marinara is handmade in Dave's Gourmet's own kitchen using fresh vine-ripened tomatoes and some of the world's most expensive ingredients including imported Italian white truffles and edible gold flakes. Each jar also comes in an antique handcrafted wooden box bearing the company's insignia. The White Truffle Marinara will be produced in limited quantities and each jar takes approximately six weeks from ordering to delivery.
"The White Truffle Marinara is a fun and fitting next step in our mission of developing innovative premium products," said Dave Hirschkop, Founder and CEO of Dave's Gourmet.
For twenty years, Dave's Gourmet has dedicated itself to introducing new and innovative products to the market. Dave first pioneered the super-hot sauce category in 1993 with his Insanity Sauce, dubbed "the Original Hottest Sauce in the Universe," and has since become a leader in the premium pasta sauce category. Dave's Gourmet won the award for best pasta sauce in the industry two years in a row with the first of its kind, Butternut Squash Pasta Sauce followed by the unique Masala Marinara.
In addition to the White Truffle Marinara, Dave's Gourmet will celebrate its 20th Anniversary with other events throughout the year including a video program and other online contests aimed at rewarding Dave's Gourmet's most loyal and longtime fans with various prizes and acknowledgments. "These events symbolize our continuing commitment to innovate, have fun and grow for the benefit of the consumer, and we are really grateful to our partners and customers for all their support for the past 20 years," said Mr. Hirschkop.
###
About Dave's Gourmet:
Dave's Gourmet is a sixteen-time National Association for the Specialty Food Trade (NASFT) award winner who produces hot sauces, salsas, drink mixes, snacks and premium pasta sauces. They shook up the hot sauce world years ago by creating the world's first super-hot sauce and more recently have been stretching the pasta sauce category with innovations like their award winning Butternut Squash and Masala Marinara Pasta Sauces. For more information, visit http://www.davesgourmet.com. If you're interested in learning more, please contact Dave Hirschkop at dave(at)davesgourmet(dot)com or call 415-401-9100.