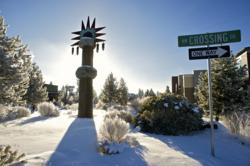 We chose NorthWest Crossing because it's a vibrant neighborhood with a great sense of community and values, which is important to Hydro Flask.
Bend, Oregon (PRWEB) January 18, 2013
NorthWest Crossing will be growing this winter: Ruffwear Performance Dog Gear, which has been located in the neighborhood for the last 10 years, will be expanding to a larger building; and local company Hydro Flask is moving into Ruffwear's former space. Both manufacturing companies chose the Bend, Oregon neighborhood of NorthWest Crossing as the perfect place to continue growing their businesses. Between them, the companies employ more than 30 people locally.
Patrick Kruse, owner and founder of Ruffwear, said, "We are all looking forward to the opportunities that our new space will inspire. The views out of our office perch allow me to feel like a kid sitting in a tree house, envisioning the ideas and dreams that accompany those experiences.
"The new building's huge distribution center allows us to continually improve our logistics processes. Our new design and development center will be decked out with new tools that rival Santa's workshop, allowing us to quickly cobble together whatever we conjure up for our four-legged friends and their human companions," he continued.
The move to the 21,000-square-foot building at 2843 NW Lolo Drive was part of the company's plan to bring the majority of Ruffwear under one roof. By consolidating into a single location, Ruffwear is looking to streamline operations, improve collaboration, have room to grow, and be that much closer to trails and open space for product testing and getting out for a ride or a run.
Local company Hydro Flask won't let Ruffwear's current space stay empty long. This manufacturer of insulated water bottles will be moving from Bend's east side and taking over the space at 561 NW York Drive.
Scott Allen, CEO of Hydro Flask, explained, "Since our start in 2009, we have seen tremendous growth, and we've come to the point where we've outgrown our current space. We chose NorthWest Crossing because it's a vibrant neighborhood with a great sense of community and values, which is important to Hydro Flask. The timing with the vacancy of Ruffwear's headquarters couldn't have been better and the space will allow us to continue to expand and grow with our employees."
Ruffwear expects to begin operating out of its space on Lolo Drive at the end of this month, and Hydro Flask will be relocating soon after.
About NorthWest Crossing
NorthWest Crossing is a mixed-use community on Bend's west side which has won several national awards for its green building practices, as well as being a 2011 recipient of the Environmental Center's Sustainability Award and 2010 Building a Better Central Oregon Award. West Bend Property Company LLC, a partnership of Brooks Resources Corporation and Tennant Family Limited Partnership, is developing the community. Both companies, based in Bend, have solid histories of commitment to thoughtful, quality real estate developments in Central Oregon. Their goal of creating a livable and sustainable community at NorthWest Crossing is rooted in their understanding and respect for the true essence of Bend and the Central Oregon lifestyle. http://www.northwestcrossing.com
About Ruffwear
Ruffwear's mission is to build performance product to enhance and inspire outdoor adventures for dogs and their human companions. Ruffwear Performance Dog Gear™ combines technology, quality, fit, function, and safety to meet the needs of active and adventurous canines and their humans. Based in Bend, Oregon, Ruffwear sells their products through specialty pet and outdoor retailers as well as http://www.ruffwear.com. Find Ruffwear on Facebook, http://www.facebook.com/ruffwear and on their Dog Blog, http://dogblog.ruffwear.net, and on Twitter, http://twitter.com/ruffwear.
About Hydro Flask
Hydro Flask® began in the summer of 2009 with an epiphany on a Hawaiian beach, and became a reality in beautiful Bend, Oregon, one of the country's premiere outdoor playgrounds. The company's mission today is to save the world from lukewarm beverages. Hydro Flask is now the award-winning leader in high-performance, insulated stainless steel flasks and has recently expanded into the food and beverage industry with its food flasks and industry-first and only double wall vacuum insulted 64oz growlers. Using only high-quality 18/8 stainless steel, Hydro Flask delivers what people on the go have been looking for: a durable flask that keeps hots hot, colds cold, is stylish, 100% recyclable and is backed by a lifetime warranty. http://www.hydroflask.com
###