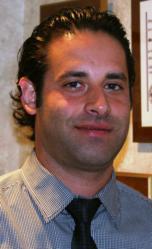 Brooklyn, NY (PRWEB) January 17, 2013
Dr. Navid Baradarian of Marine Park Periodontics & Implantology promotes periodontal maintenance as a key factor in the fight against gum disease. The old saying that an ounce of prevention is worth a pound of cure is certainly true in this case. Gum or periodontal disease left untreated can often lead to bleeding and sensitive gums and can even cause receding gums. Using proper at home care as well as periodontal maintenance, a patient has the best chance of keeping the disease at bay.
Preventive dentistry begins with teaching patients proper at-home care. Even if a person regularly brushes their teeth, if they do not do it properly, it is not as effective as expected.
The toothbrush should be held at an angle of 45 degrees, and the brush should be soft-bristled. Brushing teeth is not enough to reduce the possibility of gum disease; flossing daily is also necessary. The dentist or hygienist can show a patient the proper method of flossing. Even with proper brushing and flossing, the plaque cannot all be removed from the mouth. Plaque that is left on the teeth hardens into deposits called calculus.
The calculus is a breeding ground for the bacteria that cause gum disease. Regular visits to the dentist or periodontist to remove calculus and plaque can aid in slowing or stopping the disease so that it does not result in receding gums. A general rule of thumb is to have one's teeth cleaned every six months, but more frequent visits may be required depending on the treatments one has had and how quickly plaque is formed.
By utilizing proper oral hygiene and taking the preventive measure of regular dental visits, one can reduce the chance of developing receding gums and other problems that are related to gum or periodontal disease. Additional information is available by visiting http://www.marineparkperio.com.
Marine Park Periodontics and Implantology is a periodontal practice offering patients personalized dental care for Brooklyn and New York, NY. Dr. Navid Baradarian became a Doctor of Dental Surgery at State University of New York at Buffalo School of Dental Medicine; he earned a Certificate with honors in Productivity and Patient Care from New York University Advanced Education in General Dentistry - New York, NY, and received extensive training in implant dentistry; he achieved his Specialty Certificate in Periodontics at University of Medicine and Dentistry of New Jersey. Dr. Baradarian is part of one percent of dental professionals providing the most recent FDA cleared laser procedure for gum disease and periodontal treatment. To learn more about Marine Park Periodontics and Implantology and their dental services visit their website at http://www.marineparkperio.com and call the Brooklyn location at (347) 586-5997 or New York City at (917) 472-9904.