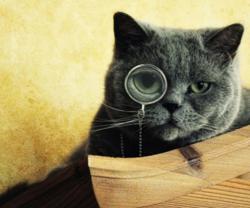 I am seeing a real increase in demand from folks that train their house cats to use these auto-flush toilets, eliminating the need for a litter box.
Phoenix, AZ (PRWEB) January 22, 2013
Arizona based touchfree restroom equipment supplier supporting cat- owners with auto-flush product for toilet trained cats.
With more than 86 million cats in America according to U.S. Humane Society, more than one third of U.S. homes own at least one cat. And while most of love having our fuzzy friends share our homes with us, no one likes the mess, smell, environmental concerns, and associated health risks of open litter boxes and cat waste that has been, up until recently, a fact of life.
Turns out there is a revolution underway in toilet training cats and the demand for automatic toilet flushers has one leading U.S. supplier stocking up on inventory to meet the increasing demand.
TouchFree Concepts http://www.touchfreeconcepts.com/ is an Arizona based company specializing in automatic restroom equipment and supplies such as timed mist air fresheners, automatic toilet flush valves, automatic faucets, and soap and hand towel dispensers. Owner Elliott Greenberg has seen a steady increase in demand for the products and expertise he provides, especially for auto flushers for tank toilets.
They are gaining in popularity as they offer the perfect application for the home especially when elderly, disabled or individuals who don't "remember" to flush are concerned," said Greenberg, "Though I am seeing a real increase in demand from folks that train their house cats to use these auto-flush toilets, eliminating the need for a litter box."
Convenience, hygiene, and cost lead the way for reasons more cat owners are looking to toilet training their cats. No mess, no smell, and more than $175 per year in litter savings according to the ASPCA all lead to a cleaner and more comfortable home. Most cat owners also recognize that kitty litter is not biodegradable, contributes to landfills and harbors bacterial waste such as parasites found in toxoplasmosis, a disease that is harmful to humans, particularly pregnant women and their unborn children.
Trained cats that use toilets equipped with auto flush do not expose their paws to their waste and are much less likely to transfer bacteria than those that dig in litter boxes.
A number of commercially available training products are available to assist cat owners in training in addition to tried and proven techniques that are available online for free.
Cats instinctively desire to hide their waste and once they determine that water is an effective way to do that they seem to prefer the toilet, says Nancy Parker of CoolKarma.com, a cat toilet training product distributor.
Whether you have a young kitty or an older, less agile cat, trainers insist any cat can use how to use the loo.
The only thing standing between you and some serious savings, a cleaner house and a happier cat are A little patience, a few items likely found around the house or a commercially available kit and an AutoFlush for tank automatic system.
More Toilet Trained Cats:
http://www.youtube.com/watch?v=5dxjzAfExiU
http://www.youtube.com/watch?v=7ObpBhe_eS8
http://www.youtube.com/watch?NR=1&v=7ghEy5fXFxY