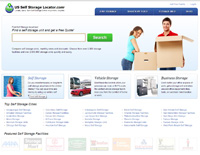 The redesign site was developed based on renters input and their desire to have it be easier to view on a multiple of devices.
North Miami Beach, FL (PRWEB) January 20, 2013
The Self Storage industry is bridging the gap between renting a self storage unit at their facilities and using the power of the internet to accomplish this outcome. Progressive companies are working side by side with them to advance the industry. We are now heading to the so called "post PC era." Smart Phones, Tablets and Netbooks are just some of such examples. USSelfStorageLocator.com's web developers and designers have been hard at work making their site "all devices" friendly. Presently, their home page and their admin pages have the latest fluid or responsive technique design, with the rest of the site not too far from following suit.
Responsive Website Design simply means using fluid widths in percentages. It includes scalable images and adjustable layouts, as so to look perfect no matter from which device you are viewing it from. When browsing the web, the enhancements will adjust the pages to the screen-size.
USSelfStorageLocator.com, one of America's fastest growing self storage search engines, has updated its website to make renting a storage unit as easy as 1 -2 -3. The large-scale redesign project now enables prospective renters to spend less time searching for facilities and storage units by utilizing advanced search options unique to the industry.
According to USSelfStorageLocator.com CEO, Victor Dante, "The redesign site was developed based on renters input and their desire to have it be easier to view on a multiple of devices. Making self storage inventory available in the market and easy to find and compare, is paramount," says Dante.
In addition to the new functionally appealing website, USSelfStorageLocator.com is a leading source of self storage information. Their tips, blogs and social media pages contain some of the most informative pages on the net. USSelfStorageLocator.com's site was enhanced to provide the potential customer the ability to make a reservation online quick and easy, after being provided with all pertinent information.
About USSelfStorageLocator.com— USSelfStorageLocator.com has evolved into one of the most prominent self storage lead generators in the industry. Consumers are able to locate, compare and reserve a self storage unit online or over the phone. USSelfStorageLocator.com features software integrations with all major property management systems, and the ability to pull data and push reservations in real time. USSelfStorageLocator.com's team is comprised of self storage and technology professionals, and is headquartered in North Miami Beach, Florida, (http://usselfstoragelocator.com). For more information you can contact them at 888-222-0225.