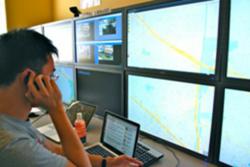 Offering this concentration will allow our campus to contribute to a space that will be really big in the future
Moffett Field, CA (PRWEB) January 18, 2013
The Software Engineering graduate programs at Carnegie Mellon University Silicon Valley provides students real-world experience with a focus on the same team-based project work common within the software industry. Students can now choose from three tracks after completing core courses to complete the degree. The new concentration on Connected Embedded Systems is available only to full-time students.
Led by Dr. Bob Iannucci, Distinguished Service Professor and Director of the CyLab Mobility Research Center, the program focuses on the fusion of hardware and software skills for dealing with cloud-based sensor networks. Mobile computing is rapidly overshadowing the PC world but with a new generation of computing –the Internet of Things– on the rise, CMU-SV's offering of a Connected Embedded Track situates the university and its students on the cutting-edge of this emerging field.
"Offering this concentration will allow our campus to contribute to a space that will be really big in the future," said Dr. Martin Griss, Director, Carnegie Mellon Silicon Valley & Associate Dean, College of Engineering. "As billions of devices are connected through the Internet, we need to understand how to use these connected devices in applications. This concentration ties together our software side and our Electrical and Computer Engineering (ECE side)."
Students will also have the opportunity to engage in research projects with industry partners in a required practicum course, enhancing their education through hands-on work on real-life issues in leading Silicon Valley companies. Research areas include ultra wireless sensors, network operating systems and ultra low-power computing.
In the spring semester (January 27th through May 3rd), a new course, "Low Power System-on-Chip Architecture," will begin as the initial offering of a two-course offering that forms the basis for the new Connected Embedded Systems concentration. The companion course, "System Architecture for Connected Embedded Systems," is planned for the summer semester (May 20 through August 9).
The Software Engineering masters program also features a Technical track focusing on technical leadership skills and a Development Management track focusing on project management leadership skills.
Depending on the chosen track, courses can include: Metrics for Software Engineers, Craft of Software Development, Avoiding Software Project Failures, Managing Software Professionals, Mobile Hardware for Software Engineers, Connected Embedded Systems Architecture and others. All courses prepare students with the skills necessary to enhance their careers within the dynamic software industry by providing relevant course material, faculty expertise and hands-on learning experiences.
Full-time students in the MS Software Engineering program have the opportunity to do in-depth research projects with the faculty, and part-time students receive flexibility in their schedules with evening courses and the option to work remotely, so they can succeed in both the classroom and workplace.
For more information about this program, visit the Connected Embedded Systems Program page. To learn more about Carnegie Mellon University Silicon Valleyor to enroll today, visit sv.cmu.edu or call(650) 335-2808.
About Carnegie Mellon University Silicon Valley:
Carnegie Mellon Silicon Valley is dedicated to educating its students to become leaders in global technology innovation and management and to performing innovative research that connects it to local, national, and global high-tech companies. Long known for its leadership in engineering and computer science research and education, Carnegie Mellon and the College of Engineering have established a natural extension in the Silicon Valley, one that integrates the rich heritage and resources of the Pittsburgh campus with the opportunities available in the highly innovative and entrepreneurial Silicon Valley. Offering software engineering Masters Programs, software management degrees, entrepreneurship, information technology, and electrical and computer engineering, each program provides the appropriate mix of technical, business and organizational skills critical to our students' success. With research that focuses on a suite of new technologies, Carnegie Mellon Silicon Valley is committed to creating and implementing solutions for real problems.