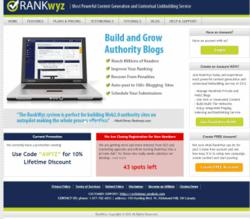 Richmond Hill, Ontario, Canada (PRWEB) January 21, 2013
RankWyz.com provides their services to SEO professionals and marketing agencies. RankWyz.com is a unique system that distributes their clients' content to multiple blogging sites all from one place, conveniently allowing users to save time and reach vast amounts of readers with the information.
"Blogging is the optimum way to grab the market's attention to your site or product, and many online businesses run multiple blogs where they talk about their products and services. At RankWyz, our users can easily distribute their content on multiple blogs on a set schedule from one place and save valuable time," remarks CEO Pavel Kovalev on his growing company and its business model.
Another feature of their service is an ability to schedule a post to be made in the future. Once a project is set up, the system will make posts automatically on behalf of the user. At the moment, RankWyz already has integration with over 100 popular blogging sites actively used by small business and SEO agencies in the US and many other countries. "You do not need 10 hands to get your blogging done or keep your content fresh and updated; just one finger to push the button," says Pavel Kovalev.
"We are constantly upgrading and improving our features. Our clients' testimonials further validate the success and benefits of the product and services that we provide to them. Our goal is to build an immensely popular internet brand by providing excellent customer service. Our ethos is 100% customer satisfaction and retention.
"We at RankWyz feel that we satisfy all of those goals, and are constantly setting new ones," adds the company's CEO.
About RankWyz.com
The company was founded in March 2012 by Pavel Kovalev. Although less than a year old, the company has demonstrated fantastic service through its growing and satisfied clientele, who themselves, in the CEO's opinion, are the best social proof that the company is improving and growing. He adds that he and his dedicated team at RankWyz.com might be a group you want to keep your eye on, both now and in the future.
To learn more about us, visit: http://www.rankwyz.com