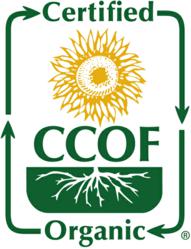 "We thought we'd kick off our 40th anniversary with a magical history tour, and the annual EcoFarm conference seemed the logical place to do it." Cathy Calfo, CCOF Executive Director.
Santa Cruz, CA (PRWEB) January 22, 2013
CCOF, the nation's leader in organic certification, advocacy, and education will celebrate its 40th anniversary, Wed. Jan. 23, by spiriting away over 120 farmers, government officials, politicians, and supporters on an all-day, 82-mile bus tour of organic farms near the central coast.
"We thought we'd kick off our 40th anniversary with a magical history tour, and the annual EcoFarm conference seemed the logical place to do it," said Cathy Calfo, CCOF's executive director.
"CCOF was founded on California's central coast with six farmers sitting around a kitchen table. So, we wanted to return to the farmlands where it all began," she continued. "Today, CCOF and organic are international, but we wanted to reflect on how we got started. We wanted to share how California became a national, if not global, center for organic farming, and what lies ahead for organic."
Narrators on board the buses will tell first-person stories of the organization's founding in 1973 and its growth. Farmers at stops along the way will tout the benefits of organic farming, displaying new technologies and research. And officials from the USDA, CCOF, and food processing and distribution companies will give their views on the organic industry's future.
Bus tour narrators include:

Mark Lipson, USDA organic and sustainable agriculture policy advisor and the first CCOF paid staff member
Bob Scowcroft, environmental activist and CCOF's first executive director
Sarah Rabkin and Irene Bell, co-editors of "Cultivating a Movement: An Oral History of Organic Farming and Sustainable Agriculture on California's Central Coast"
Cathy Calfo, CCOF executive director
The unique bus tour takes place before the start of the 2013 EcoFarm Conference, Jan. 23 to Jan. 26. With 1,500 attendees, EcoFarm is the oldest and largest gathering of ecologically sustainable agriculture advocates in the West.
The tour departs from the Asilomar Conference Grounds in Pacific Grove and includes stops in San Juan Bautista, Salinas and Monterey and chats with Phil Foster of Phil Foster Ranch - Pinnacle Brand, Roy Fuentes of Fuentes Berry Farms, Eric Brennan, of the USDA- ARS Organic Research Program; and Jamie Collins of Serendipity Farms.
For more information and/or interviews with some of those listed in this release, contact Robin Boyle, (831) 423-2263, ext. 27, rboyle (at) ccof (dot) org.
About CCOF
CCOF (California Certified Organic Farmers), a nonprofit organization, was founded in 1973 and is one of the nation's oldest and largest third-party organic certifying agencies. CCOF certifies, educates, advocates, and promotes organic through:

A premier organic certification program for growers, processors, private labelers, and retailers.
Programs to increase awareness of and demand for certified organic product and to expand public support for organic agriculture.
Advocacy for governmental policies that protect and encourage organic agriculture.
CCOF certifies more than 2,500 organic operations in 33 states and three foreign countries and serves over 240 supporting members - consumers, suppliers, businesses and individuals – interested in supporting its work.