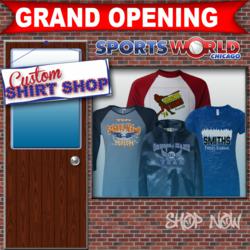 This tool makes the whole process quick and simple.
Chicago, IL (PRWEB) January 18, 2013
Longtime Chicago sports merchandise retailer Sports World has developed a simple tool that helps people design their own apparel at their website, SportsWorldChicago.com.
"Designing t-shirts and accessories for events, rec league teams and plain old fun needed to be easier," said owner Bradley Rosen. "This tool makes the whole process quick and simple."
Sports World has variety of t-shirts, sweatshirts and other apparel for men, women, children and infants that can be customized. The wide variety can accommodate any style. Customers can finish their custom apparel design in less than 10 minutes.
The custom tool works easily to customize a funny t-shirt for a party or a 200-person conference because they require only 24 items as the minimum order. Sports World's competitive prices and free shipping on all orders makes the process even easier.
Design options go beyond sports. Customers can upload their own images or choose between dozens of templates. In addition, the wide variety of fonts, colors and sizes give customers total freedom.
"We know Chicago is a city of teams." Rosen said. "Whether it's your team at work or a softball team on the weekends, Chicagoans rally around their group. And it always helps if you have a uniform."
In addition to the new online tool, SportsWorldChicago.com and physical storefront at 3555 N. Clark St. still offers a complete inventory of professional sports apparel, accessories and merchandize.