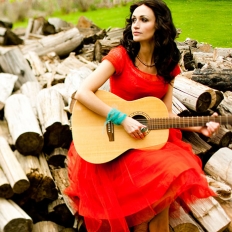 We need to bring more understanding, more healing and more love to the adoption process," Nelson said. "I want What's Mine Is Yours to become a uniting force for women everywhere, not a political football."
Salt Lake City, Utah (Jan.18, 2013) (PRWEB) January 18, 2013
Singer-songwriter Katherine Nelson, a Nashville recording artist, released her new single What's Mine is Yours, which carries a powerful message to women in the adoption community. In light of recent events, the adoption community has received much attention; a topic Nelson feels compelled to discuss openly
"We need to bring more understanding, more healing and more love to the adoption process," Nelson said. "I want What's Mine Is Yours to become a uniting force for women everywhere, not a political football. I believe the combined strength of women can change hearts across the country and across the globe."
In conjunction with the single, Nelson released a music video for the song to bring solace and support to women who have faced the adoption process and experienced both the heartache and eventual joy that it can bring. The video, produced by R Legacy Entertainment, can be viewed on Nelson's web site http://www.katherinenelson.com. The song is also available for download on the same site.
Several adoption organizations have announced support for Nelson's song. Lindsay Redfern, head of the R House Adoption Consultants and an open adoption advocate with more than 40,000 followers on her blog, has officially endorsed the song, calling it "so validating, so healing."
"I had the opportunity to hear the song live and it brought a lot of peace to my heart," Redfern said. "We had just returned a baby boy to his biological mother in a reverse adoption, so our emotions were raw. I hope every woman who has been involved in an adoption can hear What's Mine Is Yours and find new courage."
Nelson has recorded over 30 albums both as a solo artist and with other musicians, and performs with the Nashville Tribune Band. What's Mine is Yours is part of Nelson's new 11-track CD Born Brave; an anthem to the strength and bravery of women, especially in moments of discouragement, doubt and disappointment.
A resident of Lees Summit, Missouri, Nelson has seen first-hand the sorrow and disappointment from women who are physically unable to bear children or those who suffer losses along the way. And she's witnessed the emotional roller coaster that teen mothers face when giving up a child for adoption. All these experiences propelled her to write What's Mine is Yours.
She said of the songwriting experience: "The song felt like a tremendous gift and blessing. From the moment the title came to mind, my hands hit the piano keys and melody started flowing. This song was written for every woman who has the heart of a mother, both old and young, and especially to those who yearn for a family of their own."
About Katherine Nelson
Raised in Southern California, Nelson began singing at age three. Now as a recognized award-winning musical artist, songwriter, and actress, Katherine lives with her husband and four children in Missouri. Her early inspiration came from Dolly Parton, Kenny Rogers,The Hollies, Crosby Stills and Nash, Tracey Chapman, Natalie Merchant, and Kate Bush. She believes in discovering uncharted territory as well as staying true to the core of where she came from. Inspired by rich vocals from Dala, Civil Wars, Allison Krauss, and The Band Perry, she has once again been stretched to new horizons with her new CD Born Brave. It's no surprise to Katherine that her journey has lead her to Nashville, where she wrote and recorded songs in the same studios as music legends Johnny Cash and Frank Sinatra.
About R Legacy Entertainment
R Legacy Entertainment is a broad-based music company with a record label and distribution network. Founded by entrepreneur Gaylen Rust in 2008, R Legacy Entertainment was created to boost the careers of emerging musicians. Currently, R Legacy Entertainment has several artists and bands under contract and has become a hub for musicians and music listeners seeking a positive and unique music experience.
# # #