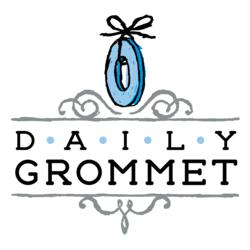 "Stockings are a true fashion complement as they can define the outfit in every occasion"
Lexington, MA (PRWEB) January 18, 2013
Daily Grommet, an online shopping site and product launch platform for innovative and undiscovered products has partnered with Italian-Made luxury hosiery brand and online boutique, Vienne Milano to launch sexy, thigh-high socks.
Local Boston entrepreneur, Vienne Cheung, Founder and CEO of VienneMilano loves the look and feel of Italian stockings and would stock up on luxury hosiery each time she visited Europe. She noticed a desire in the U.S. to share her passion for fashion and fine hosiery. She noticed many women were ordering directly from Europe in order to take advantage of their quality.
Her collection, VienneMilano, consists exclusively of thigh-high stockings. The materials -- including cashmere, silk, and elastane -- are top quality, and the craftsmanship is impeccable, right down to VienneMilano's signature packaging (a patented drawer-like box that provides a place to store your thigh-highs when you're not wearing them). The look is everything you want it to be: elegant, fun, flirtatious, classic, edgy, and romantic. "Stockings are a true fashion complement as they can define the outfit in every occasion" says Vienne Cheung. "By wearing thigh highs, a woman gains a little glamorous secret that provides her with that extra boost of confidence."
VienneMilano's stockings are also comfortable, easy easy to care for, and long-lasting. They can add warmth when you need it, plus a touch of classical Hollywood style.
About Daily Grommet
Daily Grommet is a highly curated online,marketplace and launch platform for new products of great utility, style or invention that haven't hit the big-time yet. Daily Grommet seeks out these unique products, carefully tests them, and produces a video review of each one telling the story behind its creation. Daily Grommet is rooted in the philosophy of Citizen Commerce whereby regular people form the commerce experience by suggesting products that reflect their values and interests. Citizen Commerce turns the typical top down retailer approach sideways, encourages global product innovation from small producers, and satisfies the consumer's need to know the stories behind and origins of favorite products. The company was also just named one of the hottest sites of 2013 by Internet Retailer. For more information, visit http://www.DailyGrommet.com.
About VienneMilano
VienneMilano is the first luxury brand and online boutique in the devoted exclusively to thigh highs stockings made in Italy. Under the umbrella of Multiverse Commerce, Vienne Cheung founded VieneMilano in 2011, launching its first collection in November 2011. VienneMilano's products are manufactured with luxurious and innovative materials in a variety of colors and styles. All products are sold exclusively online on http://www.viennemilano.com and will ship to customers all over the world.