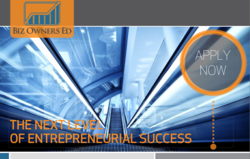 I cannot wait to come back each week to learn more.
Dallas, TX (PRWEB) January 18, 2013
Tuesday, January 15, 2013, Biz Owner's Ed completed its second of ten classes geared to assist credible entrepreneurs in DFW with their established businesses. In just 10 weeks, Biz Owner's Ed (bizownersed.org), a 501©(3) company, aims to educate its students regarding relevant topics growing businesses will face, and someday exiting those businesses.
The first two sessions featured keynote speakers, Krish Dhanam and Tony Jeary.
Krist Dhanam, is an internationally recognized motivational speaker personally trained by Zig Zigler. Dhanam is a regular speaker on the "Get Motivated" tour and the author of "The American Dream for an Indian Heart." Mr. Dhanam presented the Biz Owner's Ed opening message motivating both the students and mentors on their pursuits of lasting joy and success.
Tony Jeary has published 38 books, trains top executives from Fortune 500 companies, and was commissioned by the US Senate to bring his methodology to Washington (if they had only listened...). Mr. Jeary's message, taken largely from his book, "Success Acceleration," challenged the group to seek clarity, focus, and execution to achieve their own accelerated success. Tony shared his own methods to making meetings and presentations engaging through improved delivery techniques, and what Tony calls, "Business Entertainment."
Steven Van Ooyen, student and CEO of Track What Matters, LLC, stated, "The founders of BOE could not have made a greater impact than they have done at this point. I believe the mentors are as impressed by each other as we, the students, are of them."
Bruce Brown, mentor and owner of Rhino Steel Buildings in Denton, Texas, said, "I am getting as much as any student, and cannot wait to come back each week to learn more."
Future weeks will include instruction related to cash flow planning, selling your company, sales team management, selling products and services, motivating your team, accounting principles, measuring marketing results and advertising strategies, banking, and more....
Biz Owner's Ed was founded by Dallas-based entrepreneurs Jim Attrell, David Hammer, Bettye Rodgers, and Jay Rodgers in 2012. For more information you can visit, http://www.bizownersed.org or contact Jay Rodgers at 817-430-8793.