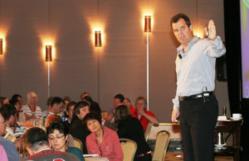 When both buyer and seller realize the benefits they could gain from the transaction – when they see that the transaction is the solution to their problems – they will instantly agree to the terms of that transaction
(PRWEB) January 18, 2013
Recent reports reveal that more people are moving to Western Australia, particularly to Perth. An estimated 1500 people come in to the state each week, according to recently released data. These individuals are coming for work and are surprised by the high costs of housing in Perth and WA, which often becomes a deterrent for them.
To help these individuals effectively deal with this housing dilemma, property innovator, Rick Otton shares his creative real estate strategies through a one-day training seminar, which will happen in Perth on February 24th, 2013.
"The purpose of these one-day training seminars is to show people a different way to transact houses – without paying for huge deposits and without seeking bank financing or loans," Otton said.
Mr. Otton has been using these strategies for more than 30 years now and he has helped more than a thousand individuals purchase their first homes without financial difficulty even if house prices are on a hike.
"It's quite simple and easy to purchase a house, whatever the price is, by thinking outside the box and using creative property investment strategies. People become amazed on how easy it is to close a transaction where both buyer and seller agree," explained Otton.
Out-of-the-Box Property Investment
Otton's creative real estate strategies focus primarily on providing solutions to the problems of both buyer and seller. He seeks to find out what each intends to achieve in the transaction and modifies the terms by which both parties will benefit.
"When both buyer and seller realize the benefits they could gain from the transaction – when they see that the transaction is the solution to their problems – they will instantly agree to the terms of that transaction," said Mr. Otton.
This is why, Rick Otton has long since abandoned the idea that he is in the property business. He has since believed that he is in the problem solving business, where he uses his creative real estate strategies to solve people's problems, generating some profit for himself.
Why Creative Real Estate Strategy is the Answer
Through creative real estate, people coming in to Western Australia, or Perth in particular, would be able to purchase a house despite the cost. They could use any one of Otton's strategies, such as the vendor finance strategy.
"Vendor finance strategy works by having the seller offer easy payment terms to the buyer. The buyer can then pay the property off in a number of installments over time. The seller is then able to sell his or her property quickly without lowering the price," Mr. Otton explained.
Students of Otton have been using this specific type of creative property investment strategy. "We bought a house off a group of sellers who were nine months behind on arrears and sold that house to a family who was looking at doing the home up. Through Rick's strategies, we were able to help the vendors walk away with all of their debts paid and without their credit being shot. The benefits to the buyers are that they have a house without paying huge amount upfront and with easy installment payment terms," said J. Campbell-Bruce, one of Otton's students from New South Wales.
Otton's one-day training seminar would also be held in Sydney on February 10, in Brisbane on February 17, and on Melbourne on February 23. Register to any one of these schedules at HowToBuyAHouseForADollar.com/register.
About Rick Otton
Rick Otton has spent decades making money by snapping up inexpensive real estate and putting it to work building wealth. Now, he's teaching other Aussies how to do the same.
Otton is the founder and CEO of We Buy Houses, which operates in the U.S., U.K., Australia and New Zealand putting his strategies to work every day.
Otton got his start in alternative real estate investment in 1991 and within a year acquired 76 properties. In years after, Otton made a fortune using his low-risk, high-reward strategies to inexpensively acquire real estate.
Now, Otton wants to share the wealth by sharing the wisdom, teaching Aussies how to buy and sell real estate without cutting banks and other middlemen in on the deal.
Otton has been featured in a variety of television programs and magazines, including Today Tonight, A Current Affair, Australian Property Investor and more.
You can learn more about Otton and how to invest in residential real estate without using banks at http://www.rickotton.com.