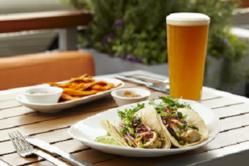 Palo Alto, CA (PRWEB) January 18, 2013
LYFE Kitchen Restaurant, a socially responsible lifestyle brand, is pleased to announce that Stacy Soderstrom has joined the team as the director of franchise development. Soderstrom will lead the charge of identifying and recruiting passionate franchisee candidates who wish to bring LYFE to their communities.
In late 2012, LYFE launched the application process for potential franchisees, seeking operators who embrace its mission and goal of making great-tasting, good-for-you food available to consumers throughout the country.
Prior to joining LYFE, Soderstrom served as the director of franchise development for Quiznos. Managing West Coast operations, she helped lead regional growth resulting in a 60 percent rise in store locations. With more than 10 years of experience in facilitating company growth through franchises, Soderstrom's background and knowledge will help LYFE achieve its aggressive growth strategy.
"To see what the company has already accomplished is awe-inspiring," said Soderstrom. "LYFE Kitchen has a strong vision and commitment already being executed in Palo Alto for the past year. As someone with a longstanding personal interest in staying active and living well, I'm passionate about the lifestyle this brand embodies."
Soderstrom graduated from Portland State University with a Bachelor's of Science in Business with an emphasis in Advertising and Marketing.
LYFE works with renowned chefs, a proven and experienced leadership team, aims for best-in-class sourcing as well as strict sustainability standards, and Soderstrom will assist the team in finding equally committed industry leaders to join its world-class roster.
For more information about LYFE Kitchen, visit http://www.LYFEKitchen.com and for more information about franchise opportunities, visit franchise.LYFEKitchen.com or email Soderstrom at stacy.soderstrom(at)lyfekitchen(dot)com
About LYFE Kitchen Restaurant
LYFE Kitchen's menu is filled with great-tasting, locally sourced, sustainable ingredients expertly designed by celebrity Chef Art Smith and vegan culinary sensation Tal Ronnen. The founders of LYFE Kitchen include Mike Roberts, former global president and COO of McDonald's Corporation, former investment banker Steve Sidwell and Mike Donahue former Chief Communications and External Relations Officer McDonald's USA.
LYFE, Love Your Food Everyday, is a lifestyle restaurant. LYFE Kitchen combines natural ingredients with sustainable practices and delicious flavor profiles enhanced with spices and herbs to fuel and satisfy. All dishes are preservative and additive free and contain less than 600 calories and less than 1,000 mg of sodium. We aim to fulfill the need for delicious food that is convenient, affordable, and as important, good for you. LYFE Kitchen is located at 167 Hamilton Street, Palo Alto, CA 94301. For additional information, visit http://www.lyfekitchen.com or call 650-325-LYFE(5933).
# # #