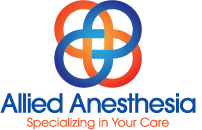 Orange, Calif (PRWEB) January 18, 2013
Two regional publications recognized five physicians from Allied Anesthesia in Orange, Calif., for their leadership, achievements and contributions in their January editions.
Drs. Cliff Char, Ian Chait, Klane Hales, and Paul Yost were selected for inclusion on the Southern California Super Doctors 2013 list compiled by Key Professional Media and published in Los Angeles Magazine. The Southern California Super Doctors list represents about 5 percent of physicians in the region.
Drs. Char, and Eric Pearson were chosen by the Orange County Medical Association as "Physicians of Excellence" appearing in Orange Coast Magazine.
"I am honored to be chosen as a Super Doc and Physician of Excellence," Dr. Char said. "It is difficult for me to accept because I know that there are many other physicians who care and blend their skills and knowledge with excellence to provide compassionate care. I am grateful for Allied Anesthesia Medical Group to allow me to provide free anesthesia care around the world and to be able to practice the best anesthesia care that I can."
Allied Anesthesia manages anesthesia services at St. Joseph Hospital in Orange, which has one of the busiest and most efficient operating rooms in the state of California. The hospital was recently ranked among the top adult cardiac surgery centers in the country by the Society of Thoracic Surgeons and consistently receives high ranking for Orthopedics from US News and World Report.
The Super Doctors list identifies physicians, who are well respected and recognized among their peers. A survey of doctors, who are invited to nominate colleagues, includes the question, "If you needed medical care in one of the following specialties, which doctor would you choose?" Each candidate undergoes an independent evaluation by research staff, a peer review by practice area and a good-standing and disciplinary check.
Candidates are evaluated on 10 indicators, including: years of experience; hospital appointments; fellowships; professional activities; leadership positions; academic achievements/positions; board certifications; publications, lectures and presentations; honors and awards, and other outstanding achievements.
Applicants selected for the 2013 Physicians of Excellence honor were required to meet at least two of the following four criteria: 1) Physician leadership; 2) Teaching/mentoring; 3) Humanitarian service; 4) Unique contributions, significant awards and recognitions related to substantial contributions in medicine, healthcare, or on behalf of humanity.
About Allied Anesthesia: With 48 highly qualified anesthesiologists on staff, Allied Anesthesia provides adult and pediatric anesthesia services to St. Joseph Hospital of Orange, the Children's Hospital of Orange County, the Main Street Specialty Surgery Center, and many other Southern California healthcare facilities.
Allied specializes in pediatric anesthesia, performing approximately 12,000 pediatric anesthetic procedures a year. All of the group's anesthesiologists have a special interest in pediatric pain management and are board certified or board eligible in pediatric anesthesia. All Allied Anesthesiologists are board certified, and they staff and manage the most efficient operating rooms in Southern California.
Allied is a member of the California Society of Anesthesiologists and the American Society of Anesthesiologists.
For more information, visit http://www.alliedanesthesia.com.