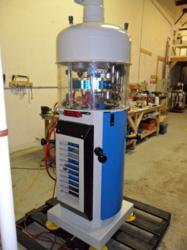 Willowbrook Il. (PRWEB) January 23, 2013
Gasoline and Diesel prices still flirt with $4.00 a gallon, and Americans know that one hiccup in the middle east and up goes the price. Small fleet owners and individuals are looking for an alternative to high prices. HVAC contractors, landscapers, plumbers,and taxis pay a fortune in fuel to keep their service vehicles on the road. Tax credits and incentives are available to switch to natural gas. What has been missing is a reliable source of fuel and affordable dependable fueling equipment. Reliable compressors for this segment average $60,000 and up. Lets take an average HVAC Contractor with 3 service vehicles that each use 10 gal of gasoline a day.
A fueling station installed on his premises could save him more than $2.50 per gal. (or GGE, gasoline gallon equivalent).
$2.50x30GGE= $75.00 a day
Let's say he works 5 days a week, though most work 6 days a week.
$75.00x5days= $375.00
He like to close 2 weeks a year to be with his family so the trucks run 50 weeks per year
$375x50 weeks=$18,750.00
The HEDEX4 which can fill 3 vehicles directly every night is priced starting at $12,500.00
$12,500.00/ $375= 33.33 weeks Return on invest.
The Hedex4 can pay for itself in 8 months.
HE Systems HEDEX CNG Compressors are truly fueling the drive to natural gas
Natural gas is home grown, better for the environment, and better for our economy.
Companty executives suggest "run your own numbers to see the benefits of switching to natural gas with a HEDEX CNG compressor/ fueling station, or better yet, go to http://www.hesystemtechnologies.com, or give the guys at HE System Technologies a call at 630-537-1219