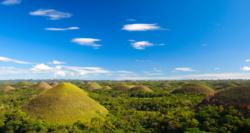 We love the Philippines and consider it one of Asia's most underappreciated countries
New York, NY (PRWEB) January 19, 2013
Remote Lands, the world's foremost ultra-luxe Asia travel designer, has been named in the New York Times' list of 46 Places to Go in 2013.
The list, which covers all continents, is designed to give adventurous travelers a 'head start' in visiting up & coming locations in 2013 before, as the article subtitle says, "the whole world will be there in 2014." Remote Lands is mentioned at #17 in relation to its expertise in arranging unique and secure bespoke tours in the Philippines.
"We are thrilled to be included in this important list published by America's most prestigious newspaper," says Catherine Heald, Remote Lands' co-founder and CEO. "We love the Philippines and consider it one of Asia's most underappreciated countries, with relatively few American tourists vacationing there. The Philippines has so much fascinating culture and history, as well as breathtaking landscapes of volcanoes and rice terraces, gorgeous islands with some of the world's finest beaches, and 5-star hotels and resorts. We are delighted to help promote the Philippines and encourage our HNWI clients to holiday there."
Remote Lands recently published its own 2013 list, Dozen Dream Destinations 2013, which can be found on the company's blog, along with other fascinating articles on unique experiences and luxury travel in Asia.
For more information about Remote Lands, email info (at) remotelands (dot) com or visit http://www.remotelands.com.
About Remote Lands, Inc.
Remote Lands, Inc. creates highly personalized, ultra-luxe holidays in Asia, optionally by private jet or yacht. Based in New York and Bangkok, they specialize in extraordinary experiences that are difficult to arrange and require privileged access to important people and exclusive events, drawing upon their relationships with remarkable people around Asia. They distinguish themselves with their unparalleled service, creative itineraries and extreme attention to detail.
Remote Lands has been featured in The New York Times, The Wall Street Journal, Departures, Travel + Leisure, Condé Nast Traveler, Town & Country, the BBC, Fox Business News, Financial Times, National Geographic Traveler, W, Newsweek, Forbes, BusinessWeek and more.