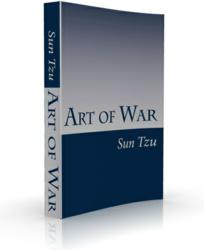 If you know your enemy and know yourself, you need not fear the result of a hundred battles
York, England (PRWEB) January 18, 2013
A new website has launched which is dedicated to The Art of War by Sun Tzu. The site offers The Art of War e-book for free download as well as a new paperback edition at a very reasonable price.
The first part of the book contains the thirteen chapters by Sun Tzu, without notes, comments or interruptions of any kind. The second part contains the thirteen chapters again but this time including the legendary comments and notes by Dr. Giles. The two parts makes this book your best option for enjoying The Art of War with or without commentary.
A note from Michael Magnusson, who prepared "The Art of War - the Thirteen Chapters" for publishing:
"I came up with the idea to publish this book after searching for a copy of The Art of War on the Internet, not being able to find the work in the shape and form I had in mind. This might seem odd since the text by Sun Tzu as well as the legendary introduction, commentary and notes by Dr. Lionel Giles (1875-1958), assistant curator at the British Museum and Keeper of the Department of Oriental Manuscripts and Printed Books, are in the public domain. The text is offered for free in e-book format on literally hundreds of web sites and there are also numerous printed versions available in online bookstores. I have nothing against e-books as such but in this case I wanted a proper paper book to keep in my personal library. I also noticed that most e-books published online were impossibly formatted copy and paste creations resulting in a rather unpleasant reading experience. What I was looking for was fairly simple one would think. I wanted a paper book with two parts, the first with the Thirteen Chapters by Sun Tzu uninterrupted by notes and commentaries, and the second part with the complete work of Sun Tzu incorporating the notes by Giles. Sometimes I like to read Sun Tzu without having the text broken up by notes and sometimes I want to read the work together with the notes by Giles, as simple as that. With the risk of being considered rather particular I also admit that I had a preference for a simple clean book cover free of any dragons, bamboo sticks or Yin-Yang symbols."
Visit The Art of War today!
Art of War by Sun Tzu - 256 pages
Notes by Dr. Lionel Giles - United Kingdom
Prepared for Publishing by: Michael Magnusson - Sweden
ISBN/EAN13: 1479139750 / 9781479139750
Available through Amazon and other major Book Sellers.