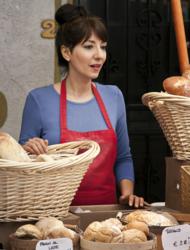 It is a compelling story representing the struggle regarding women's empowerment, their resilience and, at the same time, their vulnerability when their emotions and their career needs are at odds with one another.
Los Angeles, CA (PRWEB) January 18, 2013
The fifth short film by Italian director Simo Manfredi premieres on Friday, January 18, 2013, at the American Film Institute, located in Los Angeles at 2021 North Western Avenue. This nuanced film captures two lovers at the end of their relationship, as they struggle with the prospect of having to let go of one another. It is about Anna (Flavia Watson), who travels to a small town in Northern Italy to visit Luca (Matias Masucci), her long distance lover. The film focuses on their last weekend together prior to Anna's departure overseas. Anna and Luca live in this final moment simply by trying to be together in the way they have always been. They want to enjoy the small gestures, the laughs, and the love that they feel for one another. Anna is going to leave Italy to pursue her career abroad. Luca understands how important this is for her and wants her to be successful. The reasonable distance that has always been a component of their relationship now seems to grow as Anna's departure nears, and they both know that this might be the end.
Luciana Lagana was cast to play the role of the baker. She enthusiastically stated that "In this Italian movie, there was only one supporting role. I was honored to find out that the director had chosen me over 68 other candidates for the part. The scene took place in a very typical, authentic setting that recreated a small Italian outdoor market, to provide an emotionally moving introduction for the main character, Anna." Simo explained her motivation for selecting Luciana for the role by commenting that "I chose Luciana (whom I had never met before) because I was attracted to her spontaneity. I asked my casting director to make each actor play the baker scene in different ways. Luciana was able to portray the part of the friendly baker in two completely different yet strong ways."
At the end of editing, Simo was unable to keep this lovely outdoor market scene in the final cut of the movie. When asked about this, she explained that "In order to meet the running time requirements for festival submissions, I had to sacrifice Luciana's scene. I was really attached to her scene; it was the most important outdoor scene of the movie. It was intended to replicate the downtown area of a small city in Northern Italy; the outdoor market, like in reality, had a very intimate feel. For me, as an Italian director, it represented the heart of the Italian culture. To build this scene organically, my production designer – Grant Redwine - bought several loaves of a variety of breads, rented many market stands, and decorated them with Italian set decorations. We rented for the entire day the beautiful area of Huntington Beach known as The Old Village."
Luciana acted in this film speaking exclusively in her first language; given that there are not many roles cast in Hollywood in which the actors are required to speak Italian, this was a very nice opportunity for her. Simo shared that "The locations and the actors in this intense film created an atmosphere of being back in Italy. I wish that more movies were made here in Los Angeles recreating the feel and look of Italy, especially in order to bring Italian sensitivities to film, bridging the emotional and cultural distance between these two countries in some ways." Luciana added that "Many times, what we see on TV and in movies about Italy is very stereotypical and often outdated. It would be innovative for movie directors and producers here in the U.S. to break this traditional Italian mold and be adventurous in depicting contemporary Italian urban life."
When asked to elaborate on the fact that the Italian style of living is often statically portrayed in the U.S., Simo responded that "TV and movies depicting Italian stories are often on pre- or post-World War II subjects. There is little to no portrayal of the newer generations of Italians. For example, in the past years, many Italians have been increasingly choosing not to ever marry and also not to have children, but this is very rarely (if at all) portrayed in the U.S. media. Many times, we see Italian women depicted as homemakers cooking great Italian meals, but this is very limiting." In conclusion, Luciana stated that "This movie's story is very universal. It goes beyond cultural issues in that, in many countries, people who are in love are often not able to find fulfilling jobs in the same location. In Simo's movie, Anna chose to suffer emotionally and lose the love of her life due to the fact that she could have pursued her career dreams only by moving abroad. It is a compelling story representing the struggle regarding women's empowerment, their resilience and, at the same time, their vulnerability when their emotions and their career needs are at odds with one another."
By Marcia Bell, Publicist