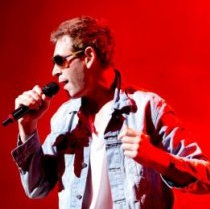 "My musical tastes are all over the board," Matisyahu says in reference to a record that mixes ancient traditional sounds with futuristic electro beats, rapping with singing, songs of the spirit with songs of the body
Santa Fe, New Mexico (PRWEB) January 17, 2013
It's been said many times by fans and critic alike, "The vocals and songwriting of Matisyahu are rare and amazing indeed!" Matisyahu, presented by The Lensic from 7:30 - 9 p.m., Thursday, Jan. 31, 2013, is a featured event on the SantaFe.com event calendar.
Based with family in Los Angeles, Matisyahu blasts off yet again with Spark Seeker, a bold new studio album that finds the one-of-a-kind vocalist and songwriter exploring uncharted territory with help from an expansive cast of collaborators. "My musical tastes are all over the board," Matisyahu says in reference to a record that mixes ancient traditional sounds with futuristic electro beats, rapping with singing, songs of the spirit with songs of the body. "And, besides, my music has never been about the outer garment. It's about searching out inspiration wherever it lies. This album is about seeking that spark within."
Outer garments, of course, long defined Matisyahu in the eyes of many. "I was the Hasidic reggae superstar," he says with a knowing laugh. So when Matisyahu took to Twitter late last year to post a personal portrait with a new look, it was done with a certain amount of relief. "It just felt good to sort of restart everything," he says, adding that the transformation actualized one of the central themes of Spark Seeker: the impermanence of the physical form. "The spark seeker digs for truth and meaning and is willing to let go of everything to find it. He's honest and authentic with himself and lives life from the inside out. He creates music from the depths and doesn't worry about what category it or he fits into."
Ticket Info
Purchase Tickets Online or by phone at 505-988-1234
Ticket Price Varies: $29/34/40/47
About The Lensic:
The Lensic Performing Arts Center opened as a nonprofit in 2001 following the restoration of the Lensic Theater, a cornerstone of downtown Santa Fe since 1931.
The Lensic:

Serves as a national model for a sustainable arts center—with its focus on performance, education and community programs.
Presents over 200 eclectic performances year-round, at affordable prices, delivering outstanding local, national and international talent.
Enriches public education by bringing more than 10,000 school children to the theater annually to see free performances of music, storytelling and dance.
Subsidizes local arts organizations, like the Santa Fe Concert Association, Santa Fe Symphony and Santa Fe Pro Musica by covering half of the rental fee for each group that uses the theater.
Offers its facilities to local nonprofits for free, or at a nominal cost, helping more than 160 organizations raise $1.7 million over 10 years.
Delivers best-in-class technical support capable of serving world-class organizations from traveling Broadway shows to the Moscow Ballet.
Sponsors a technical internship and scholarship program to train Northern New Mexico high school students in theatrical arts.
Serves as a home to the nonprofit Tickets Santa Fe, a community box office serving more than 35 organizations and venues.
About SantaFe.com:
SantaFe.com provides locals and visitors to Santa Fe alike the most current interactive platform for events, music, arts, business, dining and lifestyle. SantaFe.com is a division of Hutton Broadcasting, located at 2502 C. Camino Entrada, Santa Fe, NM 87507
Contact Information:
Scott Hutton
SantaFe.com / Hutton Broadcasting
http://www.santafe.com
(505) 471-1067 (Media inquiries only, please)