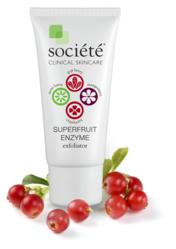 "I have used many brands of enzymes in my 15-plus years as an aesthetician, but Société's Superfruit Enzyme gives the skin a smoother and more calmed effect than I have previously seen using other products," said Paulette Barnes, Clinical Aesthetician
Atlanta, GA (PRWEB) January 18, 2013
Much like the League of Justice, each super hero has a power and brings a unique skill set to the team. Société Clinical Skincare's new Superfruit Enzyme Exfoliant brings together the 'best-of-the-best' and the mightiest of Superfruits to rid skin of debris and unwanted cells, leaving skin smoother and calmer. This new Superfruit Enzyme Exfoliant further strengthens Société's expanding clinical skincare product line.
Fruit enzymes, which are commonly used in skincare products and treatments, are given additional power courtesy of Société's proprietary blend of the most effective superfruits available, including Mangosteen, Cranberry, Noni and Goji. This new Superfruit Enzyme Exfoliant delivers a unique enzymatic exfoliating experience, using fruit extracts to improve skin's elasticity and texture, while increasing its moisture content. In addition, the same antioxidant effect that eating these superfruits has on the body can be experienced by using them topically, resulting in the gentle but highly effective removal of unwanted debris and enhanced cellular regeneration.
"I have used many brands of enzymes in my 15-plus years as an aesthetician, but Société's Superfruit Enzyme gives the skin a smoother and more calmed effect than I have previously seen using other products," said Paulette Barnes, Clinical Aesthetician, at the Skin Care Clinic of Cleveland. "We read about the many numerous benefits of using superfruits on the skin, but the results I've gotten with my clients using this product have been more than impressive. What's even better is that this enzyme exfoliant works on all skin types without exclusion, and it is perfect for use on post laser and post peel clients."
Here's why the product works:

Fruit enzymes dissolve (instead of 'scrape' away) numerous forms of cellular debris and protein build-up, leaving skin clearer, softer and more receptive to additional treatments and products.
This formulation creates a very strong exfoliation but is gentle enough to use on all skin types and conditions, including acne, pregnancy, dry/sensitive, rosacea and post-procedure.
The proprietary combination of superfruits or 'fruits of the future' is noted for its nutrient-richness, superior antioxidant power and overall health benefits.
"We've been working with various combinations of superfruits for a while now and have created what we believe to be one of the most effective and gentle enzyme exfoliants available - and we're excited to launch this product to the marketplace," said Damian Carpenter, co-founder and president of Société Clinical Skin Care. "Our Superfruit Enzyme Exfoliant will be available next week, and can be pre-ordered from Société starting today. If our market assessments are correct, we anticipate a high demand for this product and are planning our inventory accordingly."
Developed and tested in a clinical setting, Société's unique formulations contain high performance, patent-pending ingredients and are paraben free, propylene glycol free and sodium lauryl sulfate free – and further-reinforce the nexus between science and skincare.
Société is available only through a physician's office and uses a customized approach to treating a variety of skin types, including hyperpigmentation, acne-prone, hypersensitive and aging skin. This delivery system puts the professional in control of patient results, removing the 'self treatment/self diagnosis' that oftentimes reaps lackluster results. Visit http://www.societeskincare.com to view the full line of Société's products and peels.
About Société Clinical Skin Care, LLC
Founded in Atlanta, GA in 2008, Société Clinical Skin Care's exclusive products are created with the professional skin care specialist in mind. Developed and tested in a clinical setting, the innovative formulations contain high performance, patent-pending ingredients that are free of parabens, propylene glycol and sodium lauryl sulfate. The Société Transition Peel System is a customized approach for treating a variety of skin types, putting the skin care professional back in control of patient results. Sold solely through the physician community the Société line is easy to prescribe and designed to increase overall patient satisfaction while maximizing clinic profits.
Société products are distributed domestically in the United States, and internationally in five countries, with additional distribution and product line expansion planned throughout 2013.
One of Société's core priorities is its environmental impact, which is taken into account throughout all facets of the business, including: recyclable product packaging, eco-friendly ingredients, recycling, paperless systems and renewable energy. For more information, visit http://www.societeskincare.com or http://www.facebook.com/societeskincare.
Media contact:
Cheryl Monkhouse, Public Relations Director
404.822.2036
cheryl(at)societeskincare(dot)com
# # #