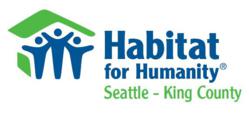 We believe that Artitudes is the right fit for Habitat SKC due to their expertise in the design and marketing field and a strong commitment and history to strengthening the non-profit community"
Renton, WAsh (PRWEB) January 18, 2013
Following a rigorous and difficult decision making process, Habitat for Humanity Seattle King-County is pleased to announce that they will be working with Artitudes Design Inc., to help elevate their marketing and communications efforts.
Based in Issaquah, Washington - Artitudes Design Inc. is a full-service design agency that specializes in non-profit branding, marketing, graphic, and interactive/motion design. Artitudes and its supporting partners, Samuelson Communications and Realia, will work with the Habitat Seattle King-County affiliate to create, develop and implement the organization's marketing, communication & public relations strategies. Artitudes and its partners will also provide copy writing, website consulting, marketing collateral design and public relations services.
Andrea Heuston, CEO & Creative Principal of Artitudes Design Inc., is a leader in the graphic design industry with over 20 years of experience. "We are very excited to be partnering with Habitat for Humanity in this endeavor," said Heuston. "It is our goal to provide Habitat for Humanity Seattle-King County with the powerful marketing and communications tools they need to elevate their message to a broader community. We know Habitat for Humanity has amazing impact on our community. We want the world to know what a great organization they are."
"We believe that Artitudes is the right fit for Habitat SKC due to their expertise in the design and marketing field, a strong commitment and history to strengthening the non-profit community, and their demonstrated excitement to partner with Habitat," said Kevin Hunter, Vice President of Development for Habitat SKC. "We're thrilled to be partnering with Artitudes as we join forces to strengthen the already powerful Habitat brand, its mission and the community impact of our newly merged organization."
In an effort to serve more families with affordable housing in King County, Habitat for Humanity of Seattle/South King County and Habitat for Humanity of East King County recently merged to become Habitat for Humanity Seattle -King County. By pooling resources, combining staff and board expertise, Habitat for Humanity Seattle-King County will become more efficient and have the capacity to serve more families. New CEO Kirk Utzinger will share the vision for the new affiliate with supporters at the Annual Benefit Breakfast at the Meydenbauer Center on Wednesday, March 27, 2013. For more information about the breakfast go to: http://www.habitatskc.org/benefit-breakfast/
About Habitat for Humanity Seattle-King County:
Habitat SKC has partnered with hundreds of organizations in 17 different cities within King County, building or rehabbing over 300 homes for families in need of affordable housing. The vision of all Habitat for Humanity affiliates around the world is "a world where everyone has a decent place to live." To learn more about how to get involved with Habitat SKC, please visit: http://www.habitatskc.org/get-involved/