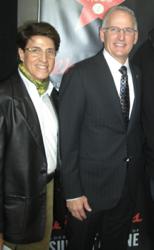 I am very excited about the launch of our new skincare line. My team and I worked hard to create products that are highly-effective and unique in anti-aging skin care, without the use of harsh chemicals
Hollywood, California (PRWEB) January 19, 2013
Launching in February 2013, The Peter Lamas Skincare Collection utilizes a synergy of powerful ingredients to help restore and renew damaged skin. Each product is concentrated with powerful anti-aging ingredients to minimize the appearance of fine lines, wrinkles, and scars. The Vital Infusion line combines natural ingredients with advanced technology to reveal resilient, luminous skin. Mr. Lamas proudly refers to the "anti-aging cocktail" he's developed in his skin care formulations.
"I am very excited about the launch of our new skincare line. My team and I worked hard to create products that are highly-effective and unique in anti-aging skin care, without the use of harsh chemicals." States Peter Lamas.
"The Peter Lamas Skincare Collection focuses on the use of Apple and Grape Stem Cells, Photosomes, Stay-C 50 (a highly effective and stable form of Vitamin C) and other cutting-edge anti-aging ingredients to help turn back the clock and help maintain healthy, beautiful skin."
Peter Lamas products were recently featured on E! Television's Eonline.com. The Chinese Herbs Stimulating Shampoo was featured in 'The Trend/Beauty" which highlights the hottest celebrities' favorite beauty products. Singer, fashion designer, entrepreneur, and new mom Jessica Simpson was noted as a fan of the Chinese Herbs Stimulating shampoo; Eonline.com describes the product as a "tingly and refreshing treat that promotes hair growth and energizes a weak scalp," in addition to helping with hair breakage, scalp itchiness and dryness.
Peter Lamas also attended the launch of Walgreens' 8,000th flagship store opening located in Los Angeles at the iconic corner of Sunset and Vine. Walgreens CEO Greg Wasson, pop singer Fergie, actor Quinton Aaron, entertainer Mark McGrath and football legend Terry Bradshaw were all in attendance.
The Hollywood flagship store opened on December 1st, 2012 and is being called the "high-end" Walgreens experience. According to Walgreens, the store features a "state-of-the-art" expanded pharmacy with Express Rx kiosks for swift checkouts, eyebrow shaping and grooming services, an Upmarket Cafe, juice and smoothie bar, hundreds of fresh food items, and a LOOK Boutique beauty department featuring prestige beauty brands not typically found in drugstores.
"Walgreen's new Hollywood location looks beautiful and provides consumers with a really unique shopping experience." Said Peter Lamas. "With our products in Duane Reade stores, I am truly proud to be part of the Walgreens family."
Peter Lamas products are available nationwide at Fred Segal, Whole Foods, Duane Reade Drugstores, Pharmaca and other fine specialty beauty stores nationwide or by visiting http://www.peterlamas.com.
Countries Peter Lamas products are available include:
United States
Canada
United Kingdom
Taiwan
Singapore
South Korea
About Peter Lamas and Peter Lamas Products:
Peter Lamas founded Peter Lamas Products with the overriding mission to offer premium hair-care, skin-care, body-care and anti-aging products that are free of harmful chemicals. From his humble beginnings in New York 30 years ago, Lamas began his career at Vidal Sassoon, training directly under the legendary Sassoon himself. Peter Lamas quickly became a go-to for classic beauties such as former First Lady and fashion icon Jacqueline Kennedy Onassis, Grace Kelly and Audrey Hepburn. Peter Lamas has worked with Hollywood's most elite, including entertainment legends Elizabeth Taylor and Diana Ross. Fans of Peter Lamas Products include Jessica Simpson, Anjelica Huston, Kiefer Sutherland and many others. Today, Peter Lamas is one of the leading international beauty experts in the world.
Peter Lamas Products have never used animal bi-products or tested on animals. Peter Lamas hair care line was one of the first ever to be paraben-free, petrochemical-free and sodium lauryl sulphate-free. Lamas places the highest priority on using nature as the foundation of each product - utilizing a combination of exotic extracts, powerful botanicals and potent herbs to enhance all skin and hair types. Each product combines cutting edge anti-aging and beauty technology with natural and organic ingredients to offer high-performance, healthy beauty products -- for a unique blend of nature and science, free of harmful chemicals that deliver results.