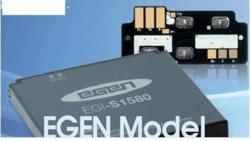 Southlake, TX (PRWEB) January 21, 2013
Cell Drive and Egen will partner with consumer electronics inventors and integrators to provide the perfect custom battery solution for cell phone, mobile accessories, digital camera, hand held testers, POS readers, radio and anything requiring a battery pack solution. Egen's experience in working with the major OEMs in Korea and industry certifications and rewards qualifies them as a great partner and battery supplier, who due to their successful operating model makes them the perfect partner for the start up entrepreneur or major OEM in need for fast and flexible battery solutions or second source supplier.
Cell Drive continues to license their patented technology for the Cellink and Cell Drive family of products and take advantage of the partnership with Egen to provide technology adopters with a custom designed battery to integrate with the Cell Drive multi-functional technology of backup battery, USB charge, data transfer and data storage to create new consumer products.