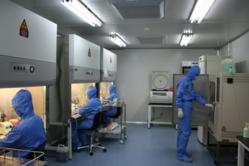 "Tomorrow's Health Care: Today"
Beijing, China (PRWEB) (PRWEB) January 20, 2013
Puhua International Hospitals (PIH)-Temple of Heaven (http://www.puhuachina.com) has been a leading international hospital in Beijing, China, for the past 20 years. During that time PIH has maintained a dominant presence in Beijing, China in neurology, neurosurgery and related areas of medicine and surgery. PIH is the only international hospital in Beijing to routinely evaluate, treat and admit patients from around the world. Patients come to PIH with diagnoses such as: central nervous system (brain and spinal cord) injury and trauma; glioma; seizure disorders; cerebral palsy; Parkinson's disease; ALS (Lou Gehrig's disease); Batten disease; brain and pituitary tumor; multiple sclerosis (MS); cerebral-vascular disease and stroke; and various neuropathic and myopathic disorders. PIH also has vigorous programs in Integrative Oncology and Diabetes.
It is into this culture, with its tradition of excellence, that Puhua International Hospitals-Temple of Heaven welcomes Dr. Weiran Tang as the new Director of the Clinical Immunology Laboratory.
Puhua International Hospitals-Temple of Heaven, Beijing (http://www.puhuachina.com) is a Center of Excellence in neurology and neurosurgery. In addition to its high level of diagnostic and therapeutic expertise, PIH has become a world leader in applied biotechnology, cellular science and applied stem cell technology. It is in these areas of applied clinical research that remarkable progress is being made at PIH in the areas of: spinal cord repair; post-traumatic brain injury; cerebral palsy; Parkinson's disease; cerebral-vascular and cardio-vascular disease, and diabetes. Other conditions managed at PIH include difficult tumors and cancers, metabolic diseases and genetic disorders. By utilizing cellular/regenerative medicine and biotechnology at the time of surgical repair for spinal cord and brain injury, the neurosurgeons and clinical scientists at PIH are today re-defining what is possible in recovery from neurological injury and disease.
Dr. Weiran Tang graduated from Hokkaido University in 1998, where he earned his PhD in Immunology. From 1999 to 2001, Dr. Tang worked at the Genox Pharmaceutical Research Institute in Japan as the Chief of Research. From 2001 to 2005, Dr. Tang worked as Research Director of the National Center for Child Health and Development in Tokyo. After he came back to China in 2005, Dr. Tang worked at the Biological Technology Research Institute of the Chinese Academy of Medical Sciences in the areas of cellular immunology and genetics.
Dr. Weiran Tang has published hundreds of academic papers in domestic and international medical publications, including "Chinese Medicinal Biotechnology," "Chinese Journal of Traditional Medical Science and Technology," the "Foreign Medical Science-Pharmacology," "Immunogenetics," and "Laboratory Investigation." Dr. Tang has a wealth of experience in the theoretical foundations and basic science of clinical cancer immunotherapy.
Dr. Tang primarily conducts research in the immunization therapy of multiple kinds of cancer and the selection and cloning of cancer genes.
Background: The Immunological Treatment of Cancer
1. Tumor Formation
The formation and development of tumors is in part a function of the body's defense system losing regulatory control over the cancer cell, which leads to the body having no direct control of these ensuing cell lines. Therefore, through re-mobilizing the inherent immunologic function and potential of the body, immunological therapy may successfully kill and eliminate the cancer. By "immunological anti-cancer therapy" is meant the stimulation and mobilization of the immune system by human intervention, thereby enhancing the body's anti-tumor function, and by these means effectively controlling and killing the cancer cells.
II. Immunological Therapy (IT): the 4th (and newest) Cancer Treatment Modality
Immunological Therapy (IT) is the 4th treatment mode following the 3 previous modes: operative treatment, radiotherapy, and chemical treatment ("chemotherapy"). Clinical IT has made substantial progress, along with concurrent developments in basic immunology and more extensive use of biotechnology in tumor research. This progress has been especially advanced with better understanding as to the role and the effect of the dendritic cell (DC) in tumor immunological therapy. The enhanced understanding of the role of the DC has been widely lauded and approved by the scientific and medical communities.
On October 3 rd 2011, the Canadian scientist, Dr. Steinman, discovered the DC and was later awarded the Nobel prize in medicine for this achievement and advancement in anticancer treatment. Professor Steinman was himself diagnosed with late-stage pancreatic cancer in 2006, and he used his research achievements to successfully prolong his life for 4 years successively after his diagnosis: a remarkable story. It is now understood that the DC presents the tumor's antigens to the cytokine-induced killer (CIK) cells, thereby enhancing and promoting the ability of these killer cells to attack, contain and even eliminate the tumor cells. The research achievements that have lead to this understanding are historic, and have greatly enhanced the ability of medical scientists, like Dr. Tang at Puhua International Hospitals-Temple of Heaven, to successfully treat malignant tumors using the patient's own (autologous) cells. Thus, while this therapy is natural and essentially free of side-effects, it has the potential to treat with an entirely new level of specificity and focus.
Puhua International Hospitals-Temple of Heaven has adapted DC/CIK combination therapy for treating a type of brain tumor known as "glioma." In the clinical treatment, it has been found that after using specifically sensitized dendritic cells (DCs) with CIK T-cell therapy, the residual glioma tumor burden has been reduced. The treatment works. This method can obviously prolong the patient's lifespan, improve the patient's quality of life, and offers enhanced ability to improve the ability to succeed in the fight against glioma and other tumors.
III. The Clinical Advantages of DC/CIK Bio-Therapy
1. Delay/prevent the reappearance of tumors after surgery.
2. Combine with and potentiate chemotherapy, to reduce and/or eliminate the tumor.
3. Blood tumor markers are reduced or returned to normal.
4. Improve the appetite and increase strength; reduce symptoms.
5. Reduce/eliminate the side effects of chemotherapy.
6. Prolong the patient's life while improving the quality of life.
7. Improve the patient's tolerance of chemotherapy, and lower the likelihood of requiring additional surgery.
IV. Limited Side-Effects of DC/CIK Therapy
There are no obvious adverse effects caused by DC/CIK biotherapy. As the treating cells are actually the patient's own ("autologous") cells, there is essentially no risk of immunological reaction or rejection.
V. Clinical/Laboratory Protocol of DC/CIK Bio-technology
1. Clinical:
A small volume of the patient's venous blood (50-100ml) is obtained, cultivated in the lab to vastly enhance the numbers of CIK cells that are sensitized to the tumor antigens, and later re-infused into the patient by intravenous (IV) method.
2. Cell Preparation:
DC/CIK cell preparation needs to be performed in a high-level laboratory facility, such as the biotechnology lab at Puhua International Hospitals-Temple of Heaven. It takes about fourteen days for cell cultivation from the time of initial blood sampling to the re-infusion of the newly grown and tumor-specific cytokine-induced killer (CIK) cells.
It is apparent that DC/CIK Biotherapy offers an important and substantial 4th arm of therapy to the traditional three anti-cancer modalities (surgery, radiation and chemotherapy).
With the addition of DC/CIK Biotechnology, Dr. Weiran Tang brings the leading edge of tomorrow's cancer biotechnology to Puhua International Hospitals, and makes it available to patients who are today in need.
This important new staff appointment underscores and highlights the expanding mission of Puhua International Hospitals. While it has always been a Center of Excellence in neurology and neurosurgery, PIH has also grown into a fully licensed, full-service hospital with over 60 inpatient beds, busy operating rooms and a fully-staffed, western standard ICU.
Puhua International Hospitals-Temple of Heaven cares for both adults and children in Beijing, as does its full service outpatient clinic (Puhua International Hospitals-Shuangjing) (http://www.puhuaclinic.com) which has been open for ambulatory care since 2010.
Puhua International Hospitals-TEDA, Tianjin (http://www.wetreatyourheart.com), opened in 2012 to serve cardio-vascular-related disorders in coordination with the TEDA International Cardiac Hospital (TICH), Tianjin.
Dr. Weiran Tang, the newly appointed Director of the Tumor Immunology Laboratory, Puhua International Hospitals-Temple of Heaven, Beijing (http://www.puhuachina.com), joins a dynamic, respected and forward-driving Center of Excellence dedicated to one elevated mission: to bring to each patient today the best health care of tomorrow.
Puhua International Hospitals may be contacted directly by calling +86-10-670355566 (Beijing, China), by writing to info(at)puhuachina(dot)com, or by visiting the website at http://www.puhuachina.com. Additional information regarding Puhua International Hospitals may be found at Wikipedia (http://www.wikipedia.com), You Tube (http://www.youtube.com), and Face Book (http://www.facebook.com).