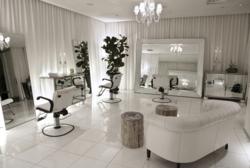 Los Angeles, CA (PRWEB) January 18, 2013
The award-winning SLS Hotel at Beverly Hill s, a Luxury Collection property, today announced its partnership with leading celebrity hair stylist Robert Vetica to open his first ever Salon inside Ciel Spa. The news marks yet another innovative collaboration for the SLS Hotels brand, which has joined creative forces with industry leaders including Philippe Starck, Chef Jose Andres and Lenny Kravitz, to create a new paradigm in luxury hospitality.
Vetica's staff, known for their talent and insight into all things beauty, brings their highly sought after skills to the guests of SLS Hotel 7 days a week from 10am - 8pm with a service menu that includes chic, signature blow-outs, styling and cuts. The Robert Vetica brand experience merges beautifully with the trademark Philippe Starck design of the salon and is present in every detail from the music playlist to the retail merchandise. Hair services at Robert Vetica Salon at Ciel Spa include a luxurious hair wash and signature blow-dry starting at $75 and fully-styled, red carpet worthy up do starting at $150.
"Robert Vetica represents another dynamic partnership for sbe and the SLS Hotel brand as we evolve as a hospitality leader and expand the brand both in the U.S. and internationally," said sbe President of the Hotel Group, Arash Azarbarzin. "We're looking forward to great success with Robert in Beverly Hills and are excited about the possibility of additional salons at future SLS Hotels locations. Not only are our innovative partners leaders within their industry, they are also a natural fit for our brand."
"I am very enthusiastic and committed to this new partnership with SLS Hotel. I truly feel like this is a perfect fit and a very exciting opportunity to grow my brand in a new direction. It has always been one of my goals to be able to continue my red-carpet celebrity, editorial and advertising work but also offer my services to general clients. The level of tastemakers and International jet setters who are guests of the SLS are definitely in-line with my ideal client who would seek out the best in style and service. I have taken an great deal of time in soft opening to train my stylists and seamlessly integrate into the Ciel Spa in order to ensure that we are offering a complete Luxury Salon experience," says Vetica.
To book appoints at the Robert Vetica Salon at Ciel Spa at SLS Hotel: 310.246.5560
ABOUT SLS HOTEL AT BEVERLY HILLS
Located at the crossroads of Beverly Hills and Los Angeles, SLS Hotel at Beverly Hills, a Luxury Collection Hotel, is the first property to debut in the new SLS Hotels brand from sbe. Challenging every traditional convention of luxury hospitality, SLS Hotels is built upon the fundamental principles of discovery, humanity, elegance and authenticity. The 297-room SLS Hotel at Beverly Hills opened its doors in November 2008 as part of The Luxury Collection Hotels & Resorts brand, managed by Starwood Hotels & Resorts Worldwide, Inc., with design by Philippe Starck and a culinary program crafted by Spanish chef José Andrés. Innovative and eclectic dining reaches new heights at The Bazaar by José Andrés, a collection of magical dining and lounge experiences woven into a modern-day indoor piazza, which received a rare 4-star review from the Los Angeles Times, and was a finalist for the James Beard Awards' "Best New Restaurant." Ciel Spa at SLS is a unique new world class spa concept, open to hotel guests and locals alike. With matchless synergy, SLS guests receive preferential access to The SBE Collection of some of the city's most sought after restaurants, nightclubs and lounges.
http://www.slshotels.com.
ABOUT SBE
Founded in 2002, Los Angeles-based sbe brings exquisite balance to the worlds of hospitality, real estate development and events. As a privately held company founded and helmed by CEO Sam Nazarian, sbe acquires, develops and manages exceptional projects through its divisions – Hotels, Restaurants, Nightlife, Real Estate & Events. With a mission to redefine standards of excellence and innovation, sbe has harnessed the creativity and innovation of the best minds in the business, including design visionary Philippe Starck, with whom the company has an exclusive agreement for the creation of hotels, restaurants and lounges in the U.S., Canada, Caribbean and Mexico. sbe's Restaurant and Nightlife division constantly stays ahead of the curve, creating and expanding trend-setting restaurant and nightlife concepts, which currently include 4 Katsuya locations (Hollywood, Brentwood, Downtown at LA LIVE, Glendale), XIV by Michael Mina, The Bazaar by José Andrés, Cleo, Gladstones, MI-6, 3 Hyde Lounge locations (Hollywood, Staples Center, Mammoth Mountain), The Abbey Food & Bar, INDUSTRY and The Colony. As the cornerstone of its synergistic approach, sbe has also completely rethought and re-imagined the luxury hotel experience. sbe debuted its luxury hotel brand, SLS Hotels, with the Fall 2008 opening of SLS Hotel at Beverly Hills, a Starwood Luxury Collection Hotel which has won international acclaim and numerous awards. Most recently, sbe launched it's second hotel brand, The Redbury, located in the heart of Hollywood. Also in the sbe Hotel collection are Miami's Ritz Plaza Hotel, Las Vegas' Sahara Hotel & Casino and Four Points by Sheraton LAX.
http://www.sbe.com.
The Luxury Collection Hotels & Resorts
The Luxury Collection® is an ensemble of hotels and resorts offering unique, authentic experiences that evoke lasting, treasured memories. For the global explorer, The Luxury Collection offers a gateway to the world's most exciting and desirable destinations. Each hotel and resort is a unique and cherished expression of its location; a portal to the destination's indigenous charms and treasures. Magnificent décor, spectacular settings, impeccable service and the latest modern conveniences combine to provide a uniquely enriching experience. Originated in 1906 as a collection of Europe's most celebrated and iconic properties, today The Luxury Collection brand is a glittering ensemble of more than 75 of the world's finest hotels and resorts in more than 30 countries in bustling cities and spectacular destinations around the world. The Luxury Collection includes award-winning properties that continuously exceed guest expectations by offering unparalleled service, style and class while celebrating each hotel's distinctive heritage and unique character. All of these hotels, many of them centuries old, are internationally recognized as being among the world's finest. For more information, please visit http://www.luxurycollection.com.
Robert Vetica
Vetica thrives on inspiring the transformative potential of hair and lives for that moment when a woman's face lights up with a realization of just how gorgeous she can be. For Vetica, it is that moment of female empowerment that still moves him after 35 years in the hair industry. It also keeps his A-list clients who include Hilary Swank, Naomi Watts, Salma Hayek, Cate Blanchett, Eva Longoria, Marion Cotillard, among many others, devotees. Vetica's 2010 book, From Good to Great Hair, is a step-by-step manual of his trade secrets and he now brings his deep knowledge of hair health and styling to the public client. Vetica's commitment to beauty is evident in his every contribution to the fashion, celebrity, and advertising worlds as well as the beauty industry as a whole.
http://www.ROBERTVETICA.COM
Media Contacts
SLS Hotel at Beverly Hills
Emily Bernstein
Public Relations Director
310.246.2092
emily.bernstein (at) luxurycollection (dot) com
Robert Vetica
Lee Everett
LaunchPad PR
310.397.4321
lee (at) launchpadpr (dot) com