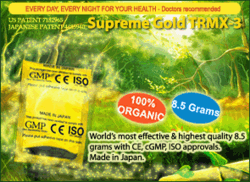 MADE IN JAPAN
Shimada, Japan (PRWEB) January 22, 2013
Shimada, Japan, January 18, 2013, Kenrico today announced that it received a record of patents in 2012 for inventions that will enable fundamental advancement across key medical devices and nutraceutical treatments including toxins absorbing patch, sporopollenin based toxins extraction (TRMX-3 ®), nattokinase based toxins extraction (LEXIRIN ®), as well as industry solutions for healthcare. These patented inventions will advance a major shift in health treatment.
"We are proud of this new benchmark in biological and scientific creativity, which grows out of Kenrico's century-long commitment to research and development," said Nurman Salim, chairman and CEO, Kenrico. "Our patent record and leadership are a testament to our devotion that matters for our distributor, for our company and for the world."
The Top Four list of 2012 patents includes:

TOXINS ABSORBING PATCH, a SAP SHEET ® or commonly known as foot pads or detoxification pads, is a medical treatment based on Japanese toxins cleansing technology (US Patent 8,317,762 – International Patent 12/267,731) invented by Suzuki, M.D (Pharmacologist, Kenrico) and Nurman Salim (Biophysical Scientist, Kenrico) and manufactured by Kenrico in Japan. It provides a complete cure to a wide range of medical conditions with effectiveness documented by numerous independent clinical studies.
TRMX-3 ® (Supreme Gold Edition), the company's sporopollenin based toxins extractor (US Patent 7,182,965 – Japanese Patent 4485940 – European Patent 03720506.09), was approved by Health Canada in Canada and in Europe by European Medical Device Agency. Separately, the company entered into strategic agreements with pharmaceutical companies to market nattokinase based Lexirin globally to physician for prevention of cell death. Apoptotic cell death plays a significant role in the tissue damage that occurs in association with aging and various abnormal conditions, for example, ischemia and various gastrointestinal disorders.
LEXIRIN ® (US Patent 6,793,945 – 6,413,556), is a medical breakthrough in the treatment of gastrointestinal disorders, deleterious dermatological conditions, immunosuppression or immunodeficiency, reperfusion damage resulting from ischemia, cardiovascular disorders, transplantation, wound healing, tissue rejection and Alzheimer's disease, and the treatment of adverse reactions from medications. LEXIRIN also can significantly decrease conditions and diseases related to aging and blocked blood circulation. LEXIRIN has passed US FDA's Phase I human clinical trials at Alta Bates Medical Center in Berkeley.
ION SHOWER HEAD EX ®, ION WATER PURIFIER ®, FOREVER ALKALINE WATER STICK PURIFIER ®. A technological advancement in water treatment technology that blends natural quartz, citrine crystals and natural minerals from Japanese hot springs for health and stress treatment.
Financial targets
Kenrico continues to expect full year 2013 revenue to double from a base of $149 million in 2012.
In addition, the company updated its anticipated consolidated tax rate to range of 10 percent.
About Kenrico
Kenrico is a global research-driven pharmaceutical company dedicated to putting patients first. Established in 1985, Kenrico currently discovers, develops, manufactures and markets prescription and alternative medicines to address unmet medical needs. The Company operates two manufacturing facilities in Shimada and Kanaya, Japan. For more information, visit http://www.kenrico.com. For a list of commercial broadcasting, visit http://www.kenrico.com/tvcommercial.html.