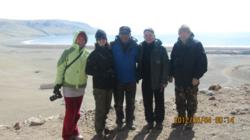 Tibet travel permits in hand, no any hassles when travelling in Tibet!
Niwei International Travel Service-Lhasa, Tibet (PRWEB) January 20, 2013
Foreign travelers to Tibet still can not get Tibet travel permits easily in Jan, Feb. and early April, 2013, according to Tibet Ctrip Travel Service-TCTS, a Lhasa-based Tibet travel agency. "The travels restrictions are still available so foreign tourists have to double check the timely permits situation and check whether their group size and nationality meet the Tibet Tourism Bureau's requests." The agency said like that on Jan.15, 2013 and they also provide guidelines for obtaining visas and permits, and finding the required tour group.
For foreign travelers (non-Chinese) independent travel in Tibet is impossible. It's important for travelers to know what restrictions there are and how to to obtain the correct permits, and to keep informed of the changing political situation.
The steps of getting Tibet Travel permits:
1. Fix Tibet travel payment to the agency's company bank account for tour confirmation (personal bank account is not recommended for sensitive travel time from Jan to Feb and early April), provide passports and China visa photo copies to them (via email attachment with higher resolution) at least 3 weeks in advance, when wiring the money, tourists need to mark their full names for all the members in the tour group thus once the payment is through, the agency in Lhasa can get the money order with the tourists name lists on it and the bank can stamp it as a certification file when applying Tibet Travel Permits.
2. The agency will prepare all paper work and submit those files to the local government offices such as PSB (Public Security Bureau), TTB (Tibet Tourism Bureau), Tibet Military Agent Office, Foreign Affairs Office, etc normally 3 weeks in advance (they can not do this 1 month or 2 months in advance). After they get approvals with leaders' signature and stamps on those files, Tibet travel permits application process gets easier and faster.
3. In most cases, about 7 to 10 days before tourists' departure for Tibet, the agency can get Tibet Entry permits, and/or Tibet Military permits, foreign affairs permits and they only need to send the physical documents to the hotel where you stay in China.
Below is the important timely update for Tibet travel restrictions early 2013.
A. All the groups entering Tibet through Nepal can get the Tibet travel permit, but the group should have no less than 5 people (with different nationality is no problem).
B. Generally, if the group come to Tibet from mainland China, then it is impossible to get the permit, but if the group is bigger than 5 or more people, then agency can apply for the group visa invitation from Tibet Tourism Bureau here in Lhasa, then they will send a e copy by email, then a group visa for the whole group can be obtained from the Chinese Embassy. So the group can enter Tibet through Mainland China. But be informed that, if it is group visa then all the members listed in the group visa should enter and exit China together.
C. Since June 24th, 2012, for travelers from Norway, Japan, Bhutan, Tibet Tourism Bureau and all other Governmental offices reject permits application. But for travelers from UK, Korea, Australia, Austria, Vietnam, they check the tourists data more seriously and carefully and they do issue the permits out if everything is right; for all travelers from other nationalities like USA, Germany, France, Italy, Denmark, Singapore, Malaysia, etc, the travel agency can apply much easily if the tour group meet the previous guidelines such as group numbers, same nationality, no journalists, military person, etc.
However, no one knows how soon that restriction will change and what changes it may happen. Depending on the time of year and local political climate, when booking a trip to Tibet, it is important to remember that government regulations can prevent all Tibet travel permits from being issued with little to no advanced notice.
When planning a trip to Tibet, one must accept the risks and be flexible should there are unexpected changes in regulations. It is important for travelers to listen to their Tibet travel guide and be respectful of the local laws, especially in sensitive areas.