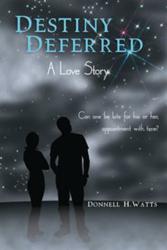 bringing into question God's plan for him
GAITHERSBURG, Md. (PRWEB) January 21, 2013
In his new bestselling novel "Destiny Deferred: A Love Story" (published by CrossBooks), Donnell H. Watts weaves fiction with reality as he looks back at his life and the decisions that made him who he is today.
The story's main character David is a troubled and insecure teen who has been sleepwalking through life without a worry or care; he believes that no one cares for him or ever will. Neither his friends nor family know about the hurt he feels every day and the battles he fights with himself to stay alive. With this mentality, David turns to pornography and drugs to ease the pain of living a hollow life.
Later, David discovers that he has a secret admirer and agrees to meet her. He quickly falls in love, seeing her as his escape from the unending hell that he has lived in the past 17 years. To David's surprise, his secret admirer also reciprocates his feelings of love, but he becomes wary since his hidden self could scare her away. After months of agonizing about her finding out whom he truly is, the couple is introduced to God's unconditional love and they marry shortly after.
David believes that this new path will help him escape his past and start anew, but his life takes a turn for the worst when he goes back to his old habits. As his new life begins to fall apart, he starts to question the choices he has made in life.
An excerpt from "Destiny Deferred":
"He called David and asked to meet with him. I was at work when he called and explained to me his concerns. I agreed to meet him after work at church. Later that evening when we met, he asked, "What's going on with you?" "I'm okay; I've been working long hours and feeling a bit stressed lately. I'm concerned about getting married and being a good husband." If he could have known what I was thinking, he would have known I had been getting high, fornicating, and lying for the past two months; in addition, my relationship with God was in the tank, Tamara was suspicious of my every move, and to boot there was a woman who gravitated to me like ocean tides under the moon."
"'Destiny Deferred' is an inspiring story about human failures, forgiveness and faith as a broken man is confronted with his ultimate showdown," says Watts, "bringing into question God's plan for him."
About the Author
Donnell H. Watts has received credited certificates of study from Emmaus Bible College in Dubuque, Iowa; has written monthly newsletters for the men's Bible group, My Brother's Keeper; and has acted as facilitator for Celebrate Recovery; a support group for men. He is currently serving as Outreach Director for the Mosaic Church of Frederick, Maryland. Donnell resides in Gaithersburg, Md. with his wife of 30-plus years and has one daughter.
Watts' novel, "Destiny Deferred," is a CrossBooks top 10 bestseller. For more information, visit http://bookstore.crossbooks.com/.
CrossBooks, a division of LifeWay Christian Resources of the Southern Baptist Convention, is a Christian publishing imprint committed to bringing more Christian voices into the publishing industry. Established authors, first-time authors, and authors anywhere in between can meet their goals and fulfill their vision for their books by publishing with CrossBooks. CrossBooks' innovative style of publishing blends the best of traditional and self-publishing. While our authors contribute monetarily to cover the cost of publishing, we maintain a strict moral and quality standard that every manuscript must meet for us to publish. For more information on publishing your Christian book with CrossBooks, log on to crossbooks.com or call 1-866-879-0502.
###