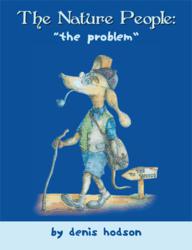 UNITED KINGDOM (PRWEB) January 19, 2013
Nigel O'Flattery was chosen by the Nature People because all his life, he had always had a keen sense of caring for all creatures and living things in his world. There was no difference in his feelings of kindness towards any creature. He was particularly caring towards life growing in the earth. So as Nigel discovered, time was of very little importance to his new found friends. It is also his opportunity to continue his story, before he forgets and may be lost forever. He thus also realises, that he has become the link between his own people, who are "The Time People", and these strange "Nature People".
The Nature People: The Problem, a fictional tale written by Denis Hodson is the second in a series of books that tells the continuing story of Nigel O'Flattery, one of theTime People who meets, communicates and become friends with the Nature People. On his constant meetings with them, it is obvious that these Nature People become part of his daily life. Nigel's regret however was, he knew many things about country life but he could not read books. He also thought that he should one day be able to write about his experiences. He wanted to borrow Squire John's books but he did not want him or Henrietta, his wife to know that he could not read. He hated having to pretend, but as most of his friends and neighbours could not read either, it had not become a problem until now.
Nevertheless, because Nigel had become a very kind and thoughtful person, the Nature People taught him how to read using a special method. But the fact that it has become common talk in the village that he now knows how to read, it also becomes a serious situation with his friend Tom Willow who was groom to the Squire. He had also noticed strange happenings whenever Nigel passed by the gate into the top field, on his way along the path towards the woods. Horses that were grazing in the meadow would stop and walk towards the gate. They would be stroked and talked to by him. Some would make strange sounds, lift a front leg and gently tap the hoof on the ground as if in greeting. It has been noticeable since Nigel spent time reading in the library at the Manor. Such friendly greetings by the horses had never happened like that in the years before.
Nigel hated the idea of having to lie to Tom, as it was not in his nature to do so. But how will he be able to explain to him how he was able to read books all of a sudden? Will he be able to speak to Millie, his main adviser amongst the Nature People and figure out the next step he must make? Will he unravel his secrets to his reading with Tom? Certainly, it has now become a serious problem for him.
The Nature People : The Problem is an entertaining read that will continue to captivate the young reader's imagination and curiosity as they follow the adventures of Nigel O'Flattery, the existence of the Nature People in his life and the important link that connects them and their respective worlds.
For more information on this book, interested parties may log on to http://www.XlibrisPublishing.co.uk.
About the Author
The author, after his school years and Technical Training served for 5 years on naval ships as an Electrical Engineer in the British Royal Navy during the 1939-45 war. This was followed by Teacher Training at Alsager in England. After four years teaching in a Secondary and a Primary School in the United Kingdom, he was commissioned and served 20 years in the British Army. These duties were principally in military training in various parts of the world. He retired from the Army at 48 and moved to South Africa with his wife and their four children. He developed various business interests during his 35 years in South Africa and now has business interests in Malaysia and Singapore where he now spends much of his time. He has travelled extensively during his 89 years and has spent time in North America, Northern Europe, Africa and the Far East.
The Nature People: The Problem * by Denis Hodson
The Problem
Publication Date: December 17, 2012
Picture Book; £12.99; 24 pages; 978-1-4797-5418-2
Picture Book Hardcover; £22.99; 24 pages; 978-1-4797-5419-9
eBook; £3.99; 978-1-4797-5420-5
Members of the media who wish to review this book may request a complimentary paperback copy by contacting the publisher at +0800-644-6988. To purchase copies of the book for resale, please fax Xlibris at 44-203-006-8880 or call +0800-644-6988.
For more information, contact Xlibris at +0800-644-6988 or on the web at http://www.XlibrisPublishing.co.uk.