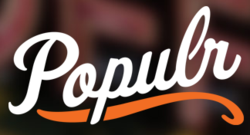 Nashville, TN (PRWEB) January 18, 2013
On January 15, 2013, Nashville-based technology provider, Populr.me opened it's doors to the public after being in beta phase for over two months. Populr.me is a unique online software platform that allows visitors to easily create impactful, published one-page solutions, referred to as "POP's".
Populr.me, one of a handful of technology providers entering the micropublishing space, already has an edge in that it allows users and groups the ability to collaborate on POP's as a team. This functionality, allows organizations the ability to create, co-manage and share their interactive one-pager's both publicly and privately. POP's can be delivered instantly to both individuals and groups by use of it's sharing function, which includes connectivity to Facebook, Twitter, LinkedIn, Google+, email and instant messaging. POP's are accessible by a Populr.me sub-domain, or through use of a designated URL.
"Many business people have the need to quickly share impactful media, but lack the resources in which to do it. Creating an entire website is too time-intensive. Creating a blog is too public. Populr.me allows everyone to create high-impact one page presentations in a matter of minutes, and then share them instantly either internally, or through their favorite social media platforms", according to Nicholas Holland, CEO and founder of Populr.me.
Populr.me has two very unique qualities:
1. The ability to track visitors' views and click actions through the use of "Tracers".
2. Collaboration between individuals and groups.
3. One of the simplest web page editors in the marketplace
Tracers, allow the creator of the POP to view if and when a POP has been viewed. They also track what media the visitor clicked on, allowing the creator to interact more efficiently when using POP's for sales follow-up, or even as a sales tool in itself. "I can remember hundreds of times when I've followed-up a sales call with an email, always wondering if it was read by the recipient. With Populr.me, I know know exactly when they viewed my POP, and even the content they clicked on", says Mr. Holland.
Collaboration is made simple, by use of a control panel that allows administrators the ability to invite and manage any number of users to share in the creation and ongoing management of multiple POP's. "Collaboration is one of our key benefits. Studying the over 40 confirmed use-cases gathered during beta phase, we are seeing a trend in POP's being used for internal corporate communications, such as training bulletins and managerial memos. The depth in which they can communicate with so many types of media in one page is very beneficial to businesses", according to Mr. Holland.
Populr.me makes everyone look like a pro, thanks to it's simplistic graphical user interface. Building a fully-interactive POP takes only a few minutes, and requires no understanding of website and/or HTML codes. More advanced features, like embedding video and contact forms, can also be done without any prior knowledge of building a website. Despite it's simplicity, many POP's have advanced functionality, not found in even the most complex websites.
Though Populr.me is free to basic users, it does charge for it's more advanced features. Populr.me closed it's beta phase having collected over $30,000 in revenue from paying subscribers.
Interested in making your own "published one-page" presentations? Visit http://www.Populr.me (Popular without the "a") and click the "Get Started For Free" button near the top of the page. Follow Populr.me on Twitter via @Populrme.