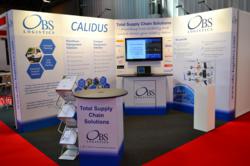 London (PRWEB UK) 21 January 2013
OBS Logistics will be exhibiting at Logistics Link South 2013 to meet with supply chain and logistics specialists who are planning their systems development for the year ahead.
OBS Logistics will demonstrate its newly-released CALIDUS ePOD app at its stand number 166. The app will be demonstrated using a tablet device and will highlight the user-friendly features of the system which has been proven to help reduce delivery error, improve cash flow and increase visibility of the delivery process for greater customer service. Features on display will include signature capture, barcode scanning, photo capture, vehicle checking and driver manifest display.
The CALIDUS ePOD app, which is available to download from the Google Play Store, offers flexible, usage based pricing making mobile technology an attractive proposition for businesses wishing to improve the efficiency and accuracy of their delivery services.
As part of the seminar programme at Logistics Link South 2013, OBS Logistics will be presenting an overview of where ePOD fits into a broader Transport and Warehouse Management system. The session, entitled 'Integrated Delivery Management for Complex Logistics', will illustrate how effective use of technology can achieve improvements across all areas of the supply chain. For companies running their own complex logistics operation, and for third party logistics services providers, this session will be an opportunity to discover how increasing automation throughout the process can reduce the risk of error, duplication and loss, and improve customer service.
To find out more about the role of mobile delivery management systems in improved supply chain efficiency please contact us.
About OBS Logistics
OBS Logistics Ltd is a UK headquartered company dedicated to providing operational business solutions to the supply chain sector. With offices in Europe and Asia, the company employs in excess of 100 professionals devoted exclusively to developing and supporting software applications for warehouse and transport management. The CALIDUS Total Logistics Solutions from OBS Logistics are used by manufacturing, wholesale, distribution and third party logistics companies and are implemented in 60 countries.