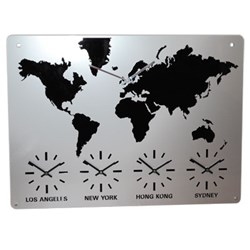 Increasingly, offices have counterparts or contacts in other countries – and usually, this means different time zones.
(PRWEB) January 19, 2013
Classic and elegant, the Acrylic Map Clock from Roco Verre looks very professional and has practical function. Featuring one main dial in the centre of the map area and four additional integrated dials, this clock makes it possible to keep track of five different time zones.
The front of the clock is constructed from metallic silver acrylic, with the map detail and four small dials cut out by precision laser. These laser cuts allow the black glossy acrylic backing to show through for nice contrast and good visibility. For added appeal, these clocks are also customizable with the desired cities or time zones for a more tailored clock. It is a stylish way to display different time zones, yet still retains that professional style.
Contemporary Heaven has long stocked a large variety of time zone clocks to fulfill modern demand. Increasingly, offices have counterparts or contacts in other countries – and usually, this means different time zones. So the easiest way to keep track of colleagues' working hours abroad is to have a time zone clock.
The catalogue of time zone clocks at Contemporary Heaven is now very extensive and includes two styles of mirror map clocks; Mirror Map Five Time Zone Clock and the Mirror World Map Time Zone Clock. The latter of the two clocks is not customizable, but features small hands in various time zone locations across the map itself and covers the majority of time zones throughout the world. The other has a similar style to the Acrylic Map Clock in that it has a frosted map of the world with a main dial of printed black digits. It also features four additional dials in black which can be customized to suit personal requirements.
These mirror map clocks have a completely unique appeal, since the mirror will reflect the entire room while the black hands make telling the time quickly very easy. Visibility and style have been very important in the design of these map clocks, making them very practical for more work oriented environments.
Offering great personalization, Roco Verre clocks at Contemporary Heaven are often made on demand to customer specifications. Many of the Roco Verre clocks can also be made including a company logo for a completely unique time piece.
About the Company
Contemporary Heaven is a Hertfordshire based retailer and manufacturer with online outlets in the UK, Holland, France, Germany, Poland and the US. They are a subsidiary of Roco Verre LTD which has been in existence for more than 15 years, supplying a range of home accessories to retailers, businesses and individuals. Their range of home accessories includes modern clocks, custom time zone clocks, personalized school clocks, coasters and placemats, unusual wall mirrors, storage solutions, contemporary lighting, bathroom accessories, barware and much more.
For more information, visit http://www.contemporaryheaven.co.uk.
Contact Details:
Contemporary Heaven
1842 Vistazo Street West,
Tiburon, CA 94920