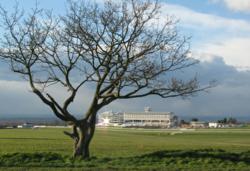 Epsom is an extremely attractive area to new businesses, thanks to its proximity to London, high-earning residents and its famous racecourse
Epsom, Surrey (PRWEB UK) 30 January 2013
A new report from company formation specialists, Duport.co.uk shows a rise in company registrations during the third quarter of 2012 in Epsom.
Between July and September, there were 149 new companies formed. This figure is the highest on record for a third quarter in the area, and is also 21% higher than the same period in 2011.
The report contained further good news in terms of net company growth. The company register increased by 55 during the third quarter, compared to 37 in Q3 of 2011.
Plans are in the pipeline for a period of redevelopment in Epsom town centre, which could be what is attracting so many new companies to set up in the area. The redevelopment will include the introduction of quality and niche retailers, family-friendly restaurants and other leisure activities. Pedestrian access will be improved and there will be strong links between Upper High Street, the adjoining public car parks and the rest of the town centre.
Managing Director of Duport.co.uk, Peter Valaitis said:
"Epsom is an extremely attractive area to new businesses, thanks to its proximity to London, high-earning residents and its famous racecourse."
"Now that the town centre is poised for redevelopment, it has become an even more enticing prospect to startups, as we can see from the record number of company formations in recent months."
The Duport Business Confidence Report for Epsom uses economic data to provide a snapshot of the local economy. More information and statistics can be found at http://www.duport.co.uk/epsom.
Duport Business Confidence Reports are generated and released by Duport Associates Ltd. The data contained in these reports is assimilated and analysed by Duport using public record data from sources including Companies House, Office for National Statistics and Ordnance Survey. Duport Associates Ltd is a leading UK company formation agent, established in 1997 and registering around 10,000 new companies each year through its Companies House approved software.