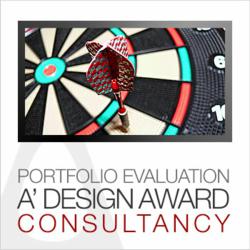 Como, Italy (PRWEB) January 18, 2013
Today, A' Design Award & Competition, have announced the release of a new consultancy service called "Portfolio Evaluation". This new service provides detailed insights to every and each of the designs in a company's product portfolio. Companies are provided suggestions on how to improve their design presentations for a successful participation in the competition.
Portfolio Evaluation Service is provided as a premium consultancy service. By ordering this service, companies could learn which one of their designs would have a higher chance of receiving awards. Companies will also be provided insights on how to make their product presentations more attractive and marketable.
How it Works
A' Design Award consultants will check product or service portfolio, catalog or website of the applicants to determine and choose the entries that are best suited for participating at A' Design Awards. Applicants' products, designs or services will be ranked based on their perceived chances of winning the awards.
After the evaluation of the applicants' portfolio, A' Design Award will provide a document titled the "Award Feasibility Report". For each design or product in the company's portfolio, this report would present a band score based on a seven-band scale, with each band corresponding to a specified competence in presentation of products.
Applicants and decision makers could visit the "Portfolio Evaluation" service description page at A' Design Award & Competition and order any of the five consultancy packages that matches their portfolio size. For further information regarding the service please visit the following page: https://www.adesignaward.com/portfolio-evaluation.html
About A' Design Award
A' Design Awards is a premier annual juried design competition that honors the best designers, architects, engineers, design studios and design oriented companies worldwide to provide them publicity, fame and recognition. A' Design Award and Competitions are organized and awarded annually and internationally in a wide range of categories. Learn more at http://www.whatisadesignaward.com.