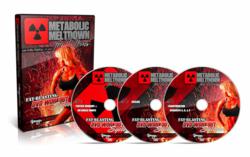 Elizabethtown, KY (PRWEB) January 18, 2013
Holly Rigsby, CEO of busy mom fitness company Fit Yummy Mummy, announced in a statement that the sale on her company's newest product ends tonight. The "Metabolic Meltdown for Moms" launched earlier this week.
Since its launch on Monday, the product has been on sale for a promotional $50 discount. Available for $79 through Midnight tonight, it is the first product released by Fit Yummy Mummy in 2013.
"Every year I get busy moms who want to exercise and achieve specific fat loss goals," says Rigsby. "I have designed the Metabolic Meltdown for Busy Moms to help them melt their muffin top, blast their butt, trim their thighs, and sculpt a rock hard core."
The new post-pregnancy workout program consists of 6 weeks of high intensity metabolic training. Through the power of short burst, high intensity workouts, Rigsby has sought to accomplish two goals.
"First, I know that moms are incredibly busy. By harnessing short, explosive exercises, I have been able to create a program specifically for women who do not have all day to spend at the gym," she says. "All I am asking of busy moms is to set aside 20 minutes 3 times a week to blast away at their trouble spots."
Additionally, Rigsby has crafted her new program design to achieve optimal fat loss through raising metabolism. "Short, high intensity workouts raise people's metabolism, regardless of if you're an athlete or a busy mom looking to tighten up your post baby body," she adds.
Going through 3 progressions (beginner, medium, and hard), the 6-week program requires basic equipment, including dumbbells, stability balls, and resistance bands.
In addition to the main product, "Metabolic Meltdown" will include bonuses, a partner challenge workout, 9 metabolic focused 1 minute workouts, a manual, and a meal planning guide.
"It's a very structured program," Rigsby reveals. "I take you through each step, explain exactly how to fit the workouts into your schedule, help you chart progress, and share extra tips to help moms maximize fat loss," Rigsby explains.
Through today, customers who purchase the Metabolic Meltdown for Moms will also receive a tabatas workout soundtrack.
The Metabolic Meltdown for Moms launched earlier this week and is available through tomorrow at Midnight EST for $50 off the retail price. For more information, visit: http://metabolicmeltdownformoms.com/
For more information on Fit Yummy Mummy, visit http://www.getfitandyummy.com/
About Holly Rigsby: Holly Rigsby is the Co-Owner of Fit Yummy Mummy. She offers her clients a variety of training products to help them burn fat. She also writes a fitness blog for FYM.
Fit Yummy Mummy is part of the Fitness Consulting Group family of companies. FYM releases fitness products for moms looking to burn fat and get in shape. It also offers workout tips through its blog.
###