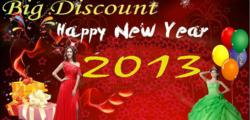 (PRWEB) January 19, 2013
With Valentine's Day around the corner, Dresses1000.com, a leading supplier of women's dresses, has launched its Valentine's Day Promotion of Wedding Dresses. All customers can get a discount, up to 55% off, and the promotion will end on Feb, 15, 2013.
According to Morry Lee, CEO of Dresses1000.com, all the wedding dresses come with high-quality materials and fine tailoring, and they have trained their staff to deal with the possible shopping wave before Valentine's Day.
Morry Lee said, "Valentine's Day is a very important time every year, and we are really excited to launch such a promotion to acknowledge our customers. Our collection of designer wedding dresses is certain to pique your interest. With a vast knowledge of craftsmanship and consumer need, we have perfect wedding dresses for any woman."
Dresses1000.com has received much approval from the market in the last few years. "I ordered my one shoulder organza beading wedding dress from Dresses1000.com last week, and I got them on time," Vicky, a customer from Sydney, said, "I am satisfied with the fast shipment, the product quality and prices. I will be happy to recommend the website to my friends."
Morry Lee added, "With the promotional prices and free shipping, our cheap wedding dresses must have great market potential, and it will stimulate our company's business growth in the next few months. "
In addition, Dresses1000.com has recently released its new collection of "2013 Prom Dresses", which comes in different lengths, colors and styles, and presents rich selections at affordable prices. Dresses1000.com also provides custom prom dresses for their customers to show their special styles.
About Dresses1000.com
Founded in 2005, Dresses1000.com is a professional company for wedding dresses, Quinceanera dresses, evening dresses and other special-occasion dresses. Dresses1000.com has received much approval from the market through its good customer service, high quality, and fast delivery.