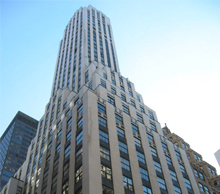 We give business everything they need to carry out their operations – we handle the office space so they can focus on their business
New York, NY (PRWEB) January 22, 2013
Corporate Suites, one of the leading providers of office space in NYC, is renovating and updating its business center at the 4th floor of 275 Madison Avenue, near Grand Central Station in Midtown Manhattan
Across the 40,000 square feet of prime New York City office space, Corporate Suites offers all the amenities of a corporate office for small and medium size businesses in need of an office with flexible lease terms, as well as satellite offices and temporary offices of larger firms. Each business center is professionally decorated with modern furniture and has high-speed internet and telephone services wired for every office suite. "We give business everything they need to carry out their operations – we handle the office space so they can focus on their business and serving their clients." says Hayim Grant, President of Corporate Suites.
As part of the renovations at 275 Madison Avenue, the business center on the 4th floor is receiving brand new paint, new floorboards and moldings, new energy-efficient lighting fixtures, and new carpeting. The 6th Floor Business Center at 275 Madison Avenue is also planned for renovation, with renovations to other business centers planned in the near future.
275 Madison is one of Corporate Suites' 7 New York City locations, including its newest NYC office space location at 1180 Avenue of the Americas, in the Times Square and Rockefeller Center area. Located at 6th Avenue and 47th Street, the new location is opening within the next month, offering all the same amenities as the other locations with offices ranging from individual executive suites to offices that accommodate more then 10 people.
Each of the seven business centers is unique in its location and clients, chosen carefully to serve the needs of different industry sectors. 275 Madison Avenue has seen a high demand for "virtual office NYC" services due to the Avenue's reputation as the premier location for advertising and marketing firms in New York City. A virtual office gives business and individuals a physical address and Manhattan-area phone number, without having to maintain an office at the location. New York City virtual office customers also get access to Corporate Suites conference rooms for rent and furnished office suites for when they need to meet in person with their teams or clients.
641 Lexington Avenue, further north in Midtown Manhattan, has seen demand from those in the accounting and business services sector. 22 Cortlandt St. caters to attorneys and financial professionals due to its proximity to the World Trade Center, New York Stock Exchange and Wall Street – as well as a temporary office space in the weeks following Hurricane Sandy. "22 Cortlandt St. is currently near 100% capacity as we were fortunate to have full power and minimal damage to our financial district office space location. We were able to work with many companies in Lower Manhattan that were displaced in the financial district by either accommodating them at 22 Cortlandt St, or 275 Madison Avenue and other Midtown locations that are near major subway stops, minimizing the inconvenience for their employees and clients after the storm."
It's just the beginning of an exciting 2013 for Corporate Suites, with more renovations and a new business center in the works. "We look forward to serving new clients at all our locations. Our motto is 'Inspiring Great Work" – giving companies the tools they need to be successful."
About Corporate Suites: Corporate Suites is one of the largest serviced office space providers in New York City. With over a decade of experience managing hundreds of executive office suites for thousands of satisfied clients, we will provide and professionally manage the perfect office solution for your business. Find more detailed information at http://www.corporatesuites.com/.