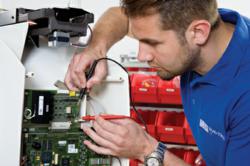 We felt it was time to reposition the Service Division in order to showcase the vast amount of experience that our Service Engineers have. The restructure will help us to improve our level of service, as well as expand our existing offering
Harlow, Essex (PRWEB UK) 18 January 2013
The Haag-Streit UK(HS-UK) Service Division has just re-launched and restructured following 25 years in the industry.
HS-UK are the sole UK authorised service agents for a number of leading brands, including; Haag-Streit, Clement Clarke International, Haag-Streit Surgical GmbH (formerly Moller-Wedel GmbH), Ellex and CenterVue.
The HS-UK Service Engineers boast more than 150 years combined experience and have undergone a multitude of specialist training to enable them to fully service and support the HS-UK product portfolio.
Eric Spencer, HS-UK Service Manager, said, "We felt it was time to reposition the Service Division in order to showcase the vast amount of experience that our Service Engineers have. The restructure will help us to improve our level of service, as well as expand our existing offering."
To align with the launch of the new Service Division, a new, dedicated service helpline has been created so that customers will always be able to reach the Service Division and have their calls logged on specialist software. The new service hotline number is 01279 456314.
A new brochure has also been developed, which outlines the real benefits of having an HS-UK service contract. The brochure details the different services that the Service Division can provide and gives an overview of the contracts which are offered.
The Service area of the website has also been completely revamped to give more detailed information about the benefits of holding an HS-UK service contract.
Dean Johnson, HS-UK Managing Director, commented, "This re-launch has allowed us to showcase our ability to go the extra mile for our customers. We are proud of the rapid-response times we offer, as well as the flexibility in our service. We ensure that our customers receive the best, in terms of service and support, and can tailor contracts to meet the individual requirements of opticians, private hospitals and NHS eye clinics."
To obtain your printed copy of the Service Division brochure please contact HS-UK on (01279) 456314, email service@haag-streit-uk.com or visit http://www.haagstreituk.com/service