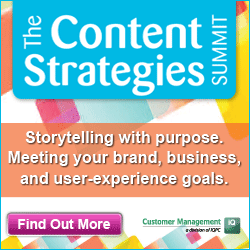 "How do organizations make sense of the wealth of content in the current digital world?" asks CMIQ's Ivy Yang.
New York, NY (PRWEB) January 21, 2013
Customer Management IQ, a division of IQPC announces its Content Strategies Summit, taking place March 20 - 22, 2013 in at the Deauville Beach Resort in Miami Beach, FL.
"How do organizations make sense of the wealth of content in the current digital world?" asks CMIQ's Ivy Yang.
We all know the web, social and mobile revolutions have forever changed the world connecting all of us and enabling the seamless flow of constant, instant information. The challenge remains in how to decipher through the wealth of content to create valuable messaging. The Content Strategies Summit is the only conference that view content marketing as "Storytelling with a Purpose," delivering a community for Content Strategists, Marketers, and User Experience experts to share better ways to manage the authoring, publishing and delivery of content.
Featured Speakers include*:

Rebecca Lieb, Analyst, Digital Advertising/Media, Altimeter Group & Author, Content Marketing
Kathi Brown Wright, Vice President, Wells Fargo
Eric Bryn, Vice President of Digital Innovation, Baird & Warner
Alberto Milani, CEO, Buccellati
Kathi Wright, Vice President, Marketing & Communications, Wells Fargo
Amanda Mahan, Creative Director, Digital, The Clorox Company
*The full list of speakers is available at http://www.ContentStrategiesSummit.com
The Content Strategies Summit delivers the most practical information answering your most pressing issues:

A simple visual content measurement strategic framework developed for how content is created and consumed
How to align your strategy to tactics and track the performance of your content across any channel or medium
How to ask the right questions of your data to be able to use it to inform content decision-making
Learn how to increase sales, loyalty and profits by leveraging the science of how our brains function.
How to align, track and measure the effectiveness of your messaging against your audience
The Content Strategies Summit was designed to deliver the tools and templates that ensure each session remains focused on the specifics of HOW you will add value to your organization upon your return to the office. Don't miss out on the opportunity to learn from industry thought-leaders, authors, practitioners and experts on how to develop a content strategy that links to your corporate goals.
For more information on the Content Strategies Summit, please visit http://www.ContentStrategiesSummit.com or contact Stephanie Gonzalez at Stephanie.Gonzalez@iqpc.com
About IQPC
IQPC (http://www.iqpc.com) provides business executives with tailored practical conferences, large-scale events, topical seminars and in-house training programs. Producing over 1,500 events annually around the world, IQPC continues to grow and has offices in cities across six continents including: Berlin, Dubai, London, New York, Sao Paulo, Singapore, Sydney, and Toronto.
About CMIQ
Customer Management IQ leverages data, intelligence and networking from our global community of call center professionals to keep you ahead of the curve…and your competition.
Contact:
Stephanie Gonzalez
IQPC
P: 212-885-2685
E: Stephanie(dot)Gonzalez(at)iqpc(dot)com