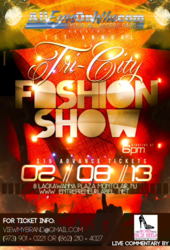 an opportunity for fashion entrepreneurs to experience the inclusive energy of a major runway production
MONTCLAIR, N.J. (PRWEB) January 20, 2013
This winter, the clothing brand Entrepreneur Label and the media company AllEyesonWho.com presents its 1st Annual Tri-City Fashion Show. This runway exhibition, will showcase various clothing designs produced by up and coming Fashion Designers in the Northern New Jersey area. This event will take place on Feb. 8 at 8 Lackawanna Plz, Montclair, N.J. doors open at 6pm.
Entrepreneur Label has created a mixed multifarious showcase of urban style and chic designs in celebration of Fashion Week 2013. The different aspects of the show from the runway, marketing and promotion, public relations, and guest services have been created from the execution of concepts by the worthy team of Entrepreneur Label and the popular photography empire of AllEyesOnWho.com.
"The 1st Annual Tri-City Fashion Show is an opportunity for fashion entrepreneurs to experience the inclusive energy of a major runway production," says Dare Thompson, the co-founder of Entrepreneur Label. "The show will provide not only a great opportunity but also a great experience to be able to develop their clothing designs and share it to a diverse crowd," says Oswald Harris, CEO and Founder.
The doors open at 6 PM and tickets are available for purchase in advance for $15 through the founders of Entrepreneur Label at (973) 901-0221 or (862) 210-4027. Tickets may also be purchased at the door. The event also features lives performances by local musicians and will be hosted by comedian Chris Thomas.
For more information, or to inquire about press-passes or VIP seating opportunities, please contact Kayanna S. Blair, Director of Public Relations for Entrepreneur Label at kaysharice(at)gmail(dot)com or call (917) 684-5697.
Entrepreneur Label, is an accomplished clothing line and public speaking company whose mission is to promote entrepreneurship to the youth and individuals around the world. Started in 2011 and is stationed in Newark, N.J.