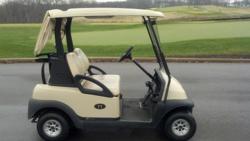 Cranberry Township, PA (PRWEB) January 19, 2013
Cranberry Township, Pennsylvania has embraced a unique way of selling its lot of 80 used golf carts. By using an established, but innovative, online government auctions site specifically designed for governments and municipalities, the township has already attracted over 70 bids on its collection of professional golf carts. There is only one week remaining, and the high bid is now almost $60,000. To view the golf carts, please visit: https://www.municibid.com/detail.asp?id=14615
The township is replacing all of its golf carts at the public Cranberry Highlands Golf Course under a new contract with higher tech, more modern carts equipped with onboard GPS. Cranberry Township Public Works Director, Jason Dailey says they chose to use the online auction site, Municibid to auction their golf carts because the website has a broad exposure to the nationwide public, which should result in many participants and higher bids than an onsite auction or private sale. Municibid was established in 2006 and has grown steadily since, to include over 800 government agencies utilizing its online auction services.
Municibid Founder and CEO, Greg Berry said, "Taxpayer demand and tightened budgets require government agencies to look for new ways of increasing non-tax revenue. Municibid is an easy way to achieve this and at no cost to the agency." Berry added "Auction items will reach a much broader, national audience of competing bidders, leading to better net results."
Cranberry Township's 80 golf carts went live on the Municibid website 3 weeks ago and have gotten thousands of unique page hits. The lot of 2008 Club Car Precedent Professional Series includes 80 uniformly beige carts with beige canopies. Additional features are: MonSoon tops with rain spouts, tinted winged and hinged windshields, 360 degree wrap around bumpers, Flexidrink cup holders, deluxe coolers stylized to match carts, and chargers. All 80 carts are being auctioned in one complete lot.
According to the Municibid.com website, all carts run and are in good working condition. Batteries have all been tested to perform for 36 holes of golf on one charge. Half of the batteries were replaced at the beginning of the 2012 season, and the other half are original from the 2008 purchase date. There is a reserve price set which has not been met at this time. The online auction for these items ends in one week, on January 24.
About Municibid.com
Municibid.com is an online government auctions platform serving over 700 state and local government agencies across the US from cities like Philadelphia, Boston and Baton Rouge, to small towns, authorities, school districts and universities. Municibid is designed for government agencies to more effectively sell surplus, forfeitures and other no longer needed items to the public via a convenient and easy-to-use website. Municibid proactively markets items nationwide via social media and traditional avenues at no cost to the selling agency.
###
Media Contacts:
Greg Berry, Founder & CEO, municibid.com – 800.531.6074 x703 or greg(dot)berry(at)municibid(dot)com
Jason Dailey, Public Works Director, Cranberry Township – jason(dot)dailey(at)cranberrytownship(dot)org
MEDIA CENTER: http://www.municibid.org