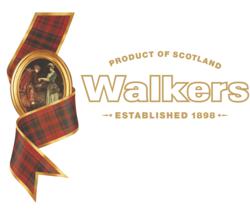 Hauppauge, NY (PRWEB) January 19, 2013
Walkers Shortbread, the much-loved and family-owned Scottish shortbread bakery, adds new "sparkle" to a perennial holiday favorite. New eye-catching packaging for the Festive Shapes line will be unveiled at the 38th Annual NASFT Winter Fancy Food Show from January 20 to 22, at booth #746 in the North Hall of Moscone Center. The Walkers Festive Shapes product line offers delicious holiday-inspired pure butter shortbread in the shape of bells, stars, trees and Santa Claus.
"Over the years, our Pure Butter Shortbread Festive Shapes have become a favorite of our customers' holiday celebrations, and our Festive Shapes are now by far the best-selling holiday cookies on the specialty cookie shelf," says President of Walkers Shortbread, Inc., Steve Dawson. "We've combined traditional images of nostalgic wintery landscapes with a very contemporary shimmery "glint" background that draws the eye, and makes the product 'pop'. We hope our customers love the new designs."
Three Festive Shapes items, the 6.2-ounce and 12.3-ounce cartons and the 12.3-ounce Tin, will feature the new look. They will be joined by a new 8.8-ounce Festive Shapes Drum featuring new holiday shapes, including trees, reindeer, Santa Claus and a snowman.
To view the updated Festive Shapes product line, please visit Walkers Shortbread at booth #746 in the North Hall of Moscone Center for the Winter Fancy Food Show from January 20 to 22.
All Walkers' shortbread, cookie and oatcake products are all-natural, OUD Kosher and suitable for vegetarians. Walkers exclude artificial colors, preservatives, flavorings and genetically modified ingredients (GMOs) from all its products. Please visit http://www.walkersus.com for more information about the full product line.
About Walkers Shortbread
Walkers Shortbread was founded in 1898 and is the leading brand of food exported from Scotland. The family-owned company still bakes its shortbread, traditional cookies, cakes, oatcakes and puddings in the secluded village of Aberlour in the Highlands of Scotland. Walkers products contain no artificial flavorings, colorings or additives: are GMO-free: and its shortbreads, cookies and oatcakes are certified kosher OUD. For more information, please visit http://www.walkersus.com.